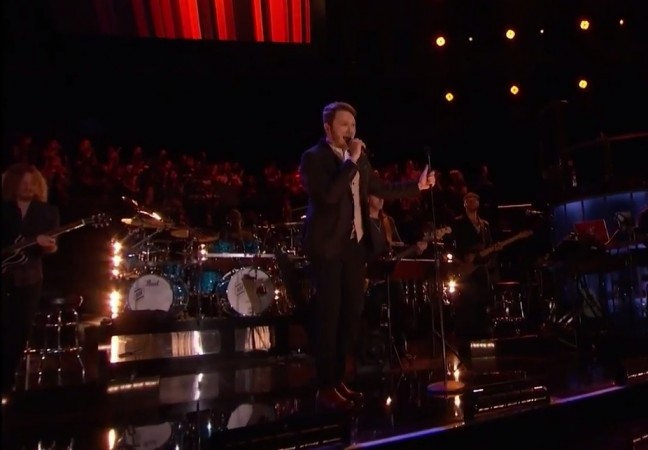 "The Voice" Season 7 Live Playoffs ended on Tuesday with members from Team Pherrell and Team Gwen performing on stage again, hoping to find a place in the Live Shows. The results of the Live Playoffs will be declared on tonight's episode, which will witness two contestants from each team leaving the competition.
Four coaches – Blake Shelton, Gwen Stefani, Pharrell Williams and Adam Levine – will go to next week's Live Shows with three contestants each. Audience will choose two contestants through voting while each coach will be given the chance to save one of the artistes in the bottom three.
Live Playoffs 2 Recap:
Pharrell Williams kicked off the Live Playoffs 2 by performing his song, "Hunter" before Ryan Sill of Team Gwen took on the song, "I Lived" by OneRepublic and managed to impress the coaches. Sill received praises for his performance despite being pushed out of his comfort zone.
Jean Kelley from Team Pherrell was the next to hit the stage. She sang Brenda Russell's "Piano in the Dark" and managed to impress the coaches but at the same time received negative comments for being "dramatic." Then Elyjuh Rene took on the song, "Latch" by Sam Smith and nailed it. In short, it was a sensational performance with excellent control.
Team Gwen's Bryana Salaz sang the song, "Amnesia" by 5 Seconds of Summer and it was a good performance filled with emotions. Luke Wade from Team Pherrell was the next to take the stage and he sang "Let's Get it On" by Marvin Gaye, getting heaps of prais from coaches for his effortless performance. Then Anita Antoinette of Team Gwen took on the song, "All About That Bass" by Meghan Trainor, and it was a good rendition.
DaNica Shirey of Team Pherrell sang "Help Me" by Joni Mitchell and she nailed it with her powerful voice. Another contestant from Team Pherrell, Sugar Joans hit the stage and earned praises from the coaches for her rendition of the song, "I Say A Little Prayer" by Dionne Warwick.
Team Gwen's Ricky Manning and Taylor John Williams performed back-to-back to end the Live Playoffs on Tuesday. Ricky sang "Lay Me Down" by Sam Smith and it was a good performance. Taylor performed "Stuck in the Middle with You" by Stealers Wheel and got praises for making the song his own.
So, who do you think will advance to the Live Shows? Well, going by Tuesday night's performance, Anita Antoinette and Bryana Salaz of Team Gwen, and Luke Wade and Elyjuh Rene of team Pherrell should be safe but at the end of the day it's the audience who will decide the fate of the contestants.
It may be mentioned that Taylor Brashears, Jessie Pitts, James David Carter, Reagan James, and Craig Wayne Boyd from Team Blake, and Chris Jamison, Matt McAndrew, Taylor Phelan, Mia Pfirrman, and Damien from Team Adam performed on Monday.
"The Voice" Season 7 Live Playoffs results episode will be telecast at 8:00 pm EST on Wednesday on NBC Television (6.30 am IST, Thursday). The episode can also be live-streamed online on Hulu.