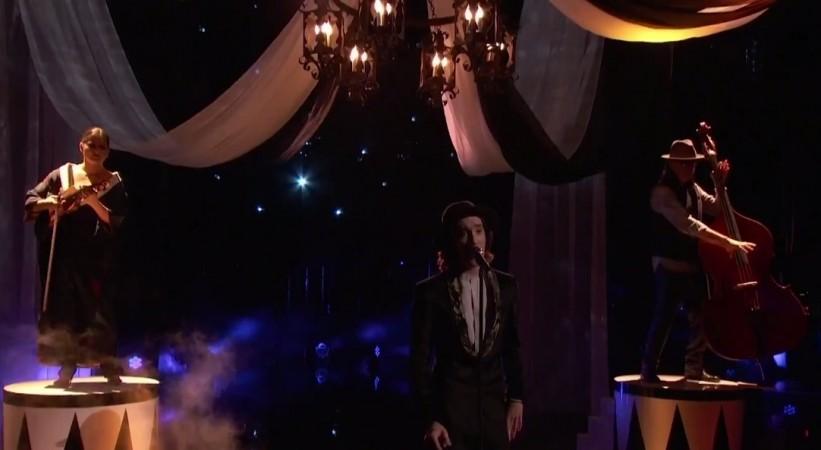 "The Voice" Season 7 Quarterfinals saw top eight remaining contestants belting out all they got with the hope of staying alive in the competition. Now, three of the them, who get least vote from the audience, will be sent home tonight.
Quarterfinalists - Ryan Sill, Craig Wayne Boyd, DaNica Shirey, Damien, Chris Jamison, Luke Wade, Taylor John Williams, and Matt McAndrew - performed live on Tuesday for America's vote. Only five of them will progress to next week's semifinals episode with three of them to be sent home this week.
"The Voice" Quarterfinals Recap:
Ryan Sill of Team Gwen took on the song, "Open Arms" by Journey. It was a decent rendition but lack of emotion in his performance could be a turn off for many.
The next contestant to take the stage was Craig Wayne Boyd from Team Blake. The lone contestant sang the song, "Take It Easy" by The Eagles. He stepped out of his comfort zone and tried something new, and deserved appreciation for that. It was a good performance but lacked energy.
DaNica Shirey of Team Pharrell performed Heart's "These Dreams" in the quarterfinals. The song arrangement was bad yet the lone female singer in the competition managed to pull through and gave a convincing performance.
Damien of Team Adam sang the song, "Someone Like You" by Adele. His rendition of the popular song brightened up the show, which started on a dull note.
The next contestant to perform was Chris Jamison of Team Adam. He sang Marvin Gaye's "Sexual Healing" and it was a good rendition.
Luke Wade of Team Pharrell was the next to hit the stage. He rendered Simply Red's "Holding Back the Years" but it was just an average performance.
Taylor John Williams of Team Gwen rendered Lorde's "Royals" and it was perhaps the best performance of the night. This rendition should take Taylor to the semifinals.
The last contestant to perform in the quarterfinals was Matt McAndrew of Team Adam. He performed Damien Rice's "The Blower's Daughter" and it was a good rendition. This performance should take him to next week's semifinals.
However, the fate of the contestants is with the audience, as the winners will be selected based on their votes. So, who will be eliminated from the competition?
"The Voice" Season 7 Quarterfinals results will be telecast at 8:00 pm EST on Tuesday on NBC Television (6.30 am IST, Wednesday). The episode can also be live-streamed online on Hulu.