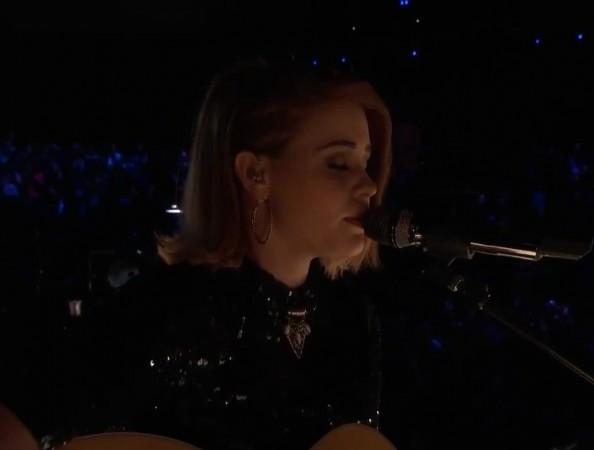 "The Voice" Season 7 has entered an exciting stage of the competition with top 20 contestants hitting the stage again after surviving the Battle Rounds and the Knockouts. Five contestants each from Team Blake and Team Adam performed during the Live Playoffs episode premiered on Monday, and the remaining 10 participants from Team Gwen and Team Pharrell will take the stage on Tuesday with the hope of impressing the judges and the audience.
Performance at the Live Playoffs is crucial as winners will be selected through public vote for the first time in the competition. Two contestants from each team will be chosen by the viewers, while each coach will save one of the participants from among the ones risking elimination.
Team Gwen's Anita Antoinette will sing the song, "All About That Bass" by Meghan Trainor; Taylor John Williams - "Stuck in the Middle with You" by Stealers Wheel; Ricky Manning - "Lay Me Down" by Sam Smith; Ryan Sill - "I Lived" by OneRepublic; and Bryana Salaz - "Amnesia" by 5 Seconds of Summer.
Team Pharrell's Elyjuh Rene will perform "Latch" by Sam Smith; DaNica Shirey - "Help Me" by Joni Mitchell; Luke Wade - "Let's Get it On" by Marvin Gaye; Sugar Joans - "I Say A Little Prayer" by Dionne Warwick; and Jean Kelley - "Piano in the Dark" by Brenda Russell.
The Live Playoffs 2 of "The Voice" Season 7 will be telecast at 8:00 pm EST Tuesday on NBC Television (6.30 am IST, Wednesday). The episode can also be live streamed online on Hulu.
On Monday, 10 contestants from Team Blake and Team Adam performed a song each.
Team Blake: Taylor Brashears sang "Long Time Gone" by Dixie Chicks, Jessie Pitts took on Bonnie Tyler's song, "Holding Out for a Hero", James David Carter rendered "Two of a Kind, Workin' on a Full House" by Garth Brooks, Reagan James sang the song, "Try" by Colbie Caillat, and Craig Wayne Boyd sang "Some Kind of Wonderful" by Soul Brothers Six.
Team Adam: Chris Jamison sang "Don't" by Ed Sheeran, Matt McAndrew performed The Beach Boys' "God Only Knows", Taylor Phelan rendered "Cool Kids" by Echosmith, Mia Pfirrman sang the song, "Young and Beautiful" by Lana Del Rey, and Damien performed "I'm Not the Only One" by Sam Smith.
The results of the Live Playoffs will be announced on Wednesday.