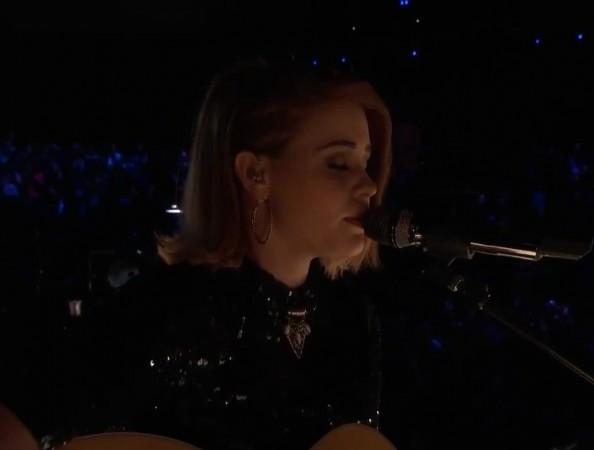 The competition has become tougher with just a few weeks to go before "The Voice" Season 7 winner is crowned. Now, the remaining top 10 contestants will perform live on stage again with the hope of advancing to next week's episode.
The top 10 participants will sing again in front of their coaches - Adam Levine, Gwen Stefani, Pharrell Williams and Blake Shelton – and public will decide their fate in the competition as they will vote for their favourites based on their performances in the live shows.
Last week saw Jessie Pitts of Team Blake, Sugar Joans of Team Pharrell and Ryan Sill of Team Gwen performing again for survival after being placed in the bottom three. Jessie sang "Gravity" by Sara Bareilles, Sugar sang "I Wanna Dance With Somebody (Who Loves Me)" by Whitney Houston and Ryan sang Extreme's "More Than Words". Jessie and Sugar were sent home after the audience saved Ryan.
Pharrell Williams and Blake Shelton are left with only two contestants each in their respective teams, while Adam Levine and Gwen Stefani have three contestants each.
Here is list of contestants who will perform live tonight for America's vote:
Team Adam: Matt McAndrew, Damien, Chris Jamison
Team Blake: Craig Wayne Boyd, Reagan James
Team Gwen Stefani: Anita Antoinette, Taylor John Williams, Ryan Sill
Team Pharrell: DaNica Shirey, Luke Wade
"The Voice" Season 7 Live Shows week three will be telecast at 8:00 pm EST on Monday on NBC Television (6.30 am IST, Tuesday). The episode can also be live-streamed online on Hulu.