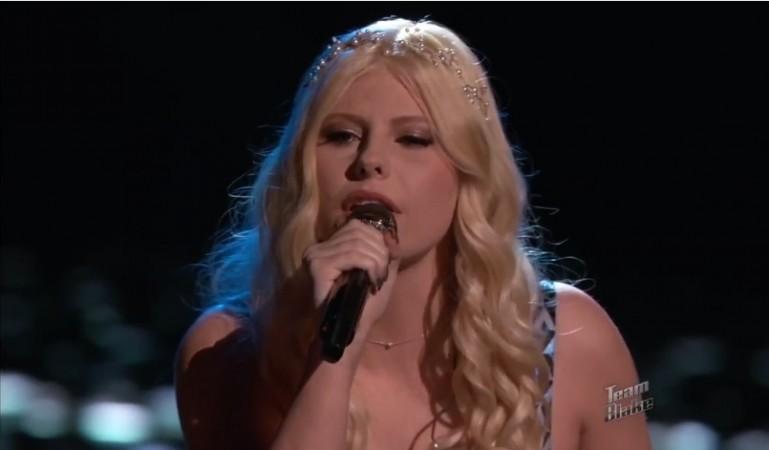 "The Voice" Season 7 has entered the most exciting part of the competition with the remaining top 10 contestants all set to take on each other with the hope of staying alive in the show. The number of contestants has been narrowed down from 48 to 10 after weeks of cut-throat competition.
This week's Live Shows saw two of the contestants being sent home. Jessie Pitts of Team Blake, Ryan Sill of Team Gwen, and Sugar Joans of Team Pharrell sang for survival after being placed in bottom three on Tuesday. Jessie sang "Gravity" by Sara Bareilles, Sugar sang "I Wanna Dance With Somebody (Who Loves Me)" by Whitney Houston and Ryan sang Extreme's "More Than Words". The audience saved Ryan, which meant Jessie and Sugar had to go home.
Jessie and Sugar's elimination came as a shock to many, as they had put up a good show in the live rounds. However, they still do have a chance to return to the show through wild card with the organisers introducing a new rule that brings back all the top 12 contestants eliminated before the finals to perform one more time once the competition reaches the final three, giving the public to choose one of them to join the competition again as a wild card contestant.
The elimination of two contestants on Tuesday has left Pharrell Williams and Blake Shelton with only two contestants each in their respective teams, while Adam Levine and Gwen Stefani have three contestants each.
Here is complete list of top 10 contestants who made it to next week's episode:
Team Adam: Matt McAndrew, Damien, Chris Jamison
Team Blake: Craig Wayne Boyd, Reagan James
Team Gwen Stefani: Anita Antoinette, Taylor John Williams, Ryan Sill
Team Pharrell: DaNica Shirey, Luke Wade
The remaining 10 contestants will once again take on each other next week.