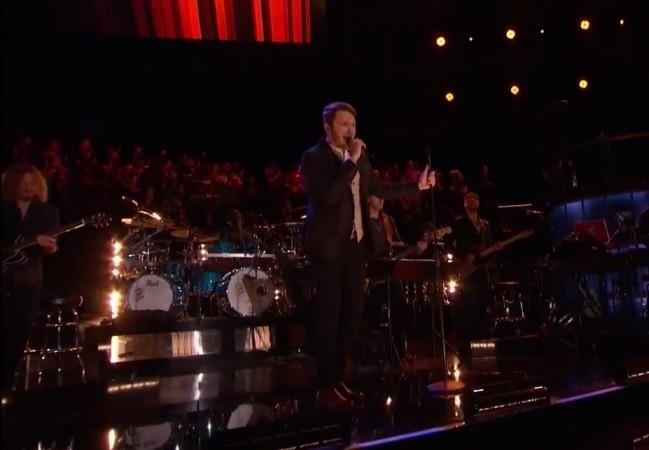 "The Voice" season 7 has reached exciting stage of the competition with the number of contestants being narrowed down from 48 to 12 at the end of the Live Playoffs last week. The top 12 remaining contestants will perform once again in the Live Shows this week with the hope of progressing to the next round.
The competition was opened to public voting for the first time last week. Two contestants from each team advanced to the Live Shows based on audience's votes and one each was saved by the coaches, Blake Shelton, Adam Levine, Gwen Stefani and Pherrell Williams.
The top 12 contestants, who will perform live this week, are:
Team Blake: Reagan James, Craig Wayne Boyd, Jessie Pitts
Last week, Reagan James sang the song, "Try" by Colbie Caillat, Craig Wayne Boyd sang "Some Kind of Wonderful" by Soul Brothers Six, and Jessie Pitts performed the song, "Holding Out for a Hero" by Bonnie Tyler.
Team Adam: Damien, Matt McAndrew, Chris Jamison
Damien sang "I'm Not the Only One" by Sam Smith, Matt McAndrew sang The Beach Boys' "God Only Knows", and Chris Jamison rendered "Don't" by Ed Sheeran last week.
Team Pherrell: Luke Wade, DaNica Shirey, Sugar Joans
Luke Wade sang "Let's Get it On" by Marvin Gaye, DaNica Shirey performed "Help Me" by Joni Mitchell, and Sugar Joans took on the song, "I Say A Little Prayer" by Dionne Warwick.
Team Gwen: Taylor John Williams, Anita Antoinette, Ryan Sill
Taylor John Williams sang "Stuck in the Middle with You" by Stealers Wheel last week, Anita Antoinette performed "All About That Bass" by Meghan Trainor and Ryan Sill took on the song, "I Lived" by OneRepublic.
The top 12 contestants will hit the stage once again this week and viewers will decide their fate in the competition based on their performance.
"The Voice" Season 7 Live Shows will be telecast at 8:00 pm EST on Monday on NBC Television (6.30 am IST, Tuesday). The episode can also be live-streamed online on Hulu.