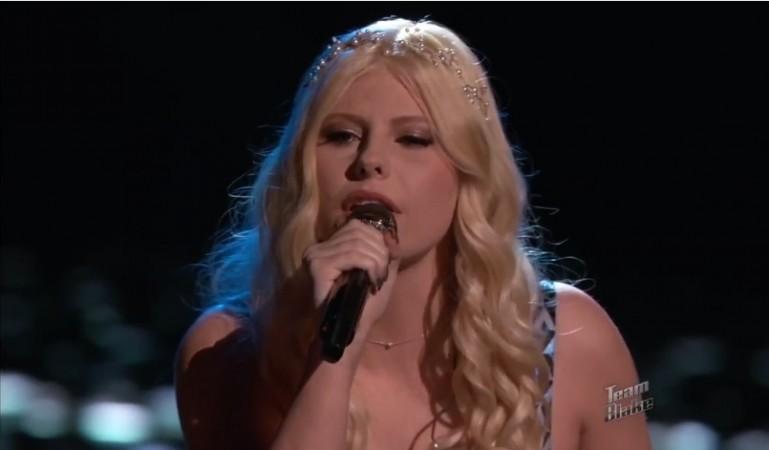 Any reality show is incomplete without the surprising and shocking turns and twists and "The Voice" season 7, has slowly started showing glimpses of that with the competition approaching the final weeks. Tuesday's elimination episode witnessed two of the top 12 contestants being sent home after getting the least public votes.
It looked like Taylor John Williams, Ryan Sill, Sugar Joans and Damien would be in the bottom four after Monday's live performance. Jessie Pitts of Team Blake put up a good show in the Live Show, performing "Don't You Worry Child" by Swedish House Mafia. She in fact brought energy into the show after a dull start. However, she landed up in the bottom three and was eventually sent home.
Sugar's performance of "Take Me to the River" by Al Green in the Live Shows might not have been convincing but she was no doubt one of her coach Pharrel Williams' favourite contestants. Her elimination came as a shock to her fans.
Host Carson Daly announced 10 contestants, who made it to next week's episode, and they were Matt McAndrew (Team Adam), Anita Antoinette (Team Gwen), DaNica Shirey (Team Pharrell), Craig Wayne Boyd (Team Blake), Damien (Team Adam), Reagan James (Team Blake), Taylor John Williams (Team Gwen), Chris Jamison (Team Adam) and Luke Wade (Team Pharrell).
Jessie Pitts of Team Blake, Ryan Sill of Team Gwen, and Sugar Joans of Team Pharrell were left in the bottom three, which meant they had to perform again for Instant Save. Jessie took on the song, "Gravity" by Sara Bareilles, and it was a good performance. Sugar sang "I Wanna Dance With Somebody (Who Loves Me)" by Whitney Houston and Ryan sang Extreme's "More Than Words" and they turned out to be just average performances.
However, it was the audience who had to choose the winner via Twitter vote, and in a shocking result, Jessie, who seemed to be more consistent in her performance both in Monday's Live Shows and Instant Save rendition, was sent home. Carson however gave a glimpse of hope to Sugar and Jessie fans by declaring that all the top 12 contestants eliminated before the finals would be recalled to perform one more time once the competition reaches the final three, giving the public to choose one of them to join the competition again as a wild card contestant.
Adam Levine and Gwen Stefani still have three contestants each, while Pharrell Williams and Blake Shelton are left with only two contestants each in the competition.