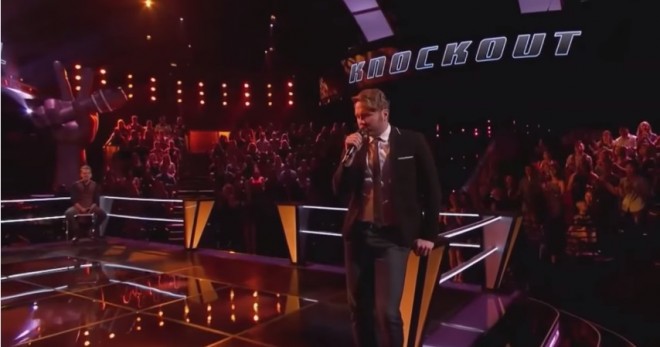 "The Voice" USA Season 7 Knockout Rounds 2 is all set to kick off with the first round being wrapped up on Monday. 12 contestants performed to impress the coaches - Blake Shelton, Gwen Stefani, Pharrell Williams and Adam Levine – in the previous episode and four of them were sent packing while eight entered the next round.
The coaches once again pair their contestants in the Knockout Rounds like in the Battle Rounds but this time, the contestants are made to sing separate songs.
"The Voice" Season 7 Knockout Rounds 2 Spoilers:
The organizers of "The Voice" were mum on the pairings and song choices but TVLine revealed them a few days before the episode was premiered on television, it turned out right as far as Monday's sequences were concerned. So, it is logical to assume that the spoilers of Tuesday's episode will be right too.
Here are the pairings and song choices of the contestants for Tuesday's show according to the website. However, it is not known who will perform on Tuesday, as there 10 pairs who are yet to hit the stage:
Team Blake:
Allison Bray will take on Taylor Brashears in the Knockout Rounds. Bray will sing "Sin Wagon" by Dixie Chicks, while Brashears will sing "Landslide" by Fleetwood Mac.
Grant Ganzer and Reagan James will compete against each other. Ganzer will sing "Apologize" by One Republic, while James will take on the song, "Hit 'Em Up Style" by Blu Cantrell.
Team Gwen:
Anita Antoinette and Craig Wayne Boyd will take on each other. Song choice for Antoinette is "Rude" by Magic, while Boyd will render "Can't You See" by Marshall Tucker Band.
Taylor John Williams and Troy Ritchie will compete against each other. Williams will sing "Mad World" by Tears for Fears, while Ritchie will take on the song, "Hey Ya!" by OutKast.
Ryan Sill will take on Beth Spangler. Sill will render the song, "Miss Independent" by Ne-Yo, while Spangler will sing "Too Little Too Late" by JoJo.
Team Adam:
Alessandro Castronova will take on Mia Pfirrman. Castronova will sing "Next to Me" by Emile Sande and Pfirrman to render "Human" by Christina Perri.
Matt McAndrew will be pitted against Rebekah Samarin. Song choice for McAndrew is "Drops of Jupiter" by Train, while that of Samarin is "You Give Me Something" by James Morrison.
Chris Jamison will be pitted against Blessing Offor. Jamison will sing "(Sittin on) the Dock of the Bay" by Otis Redding and Offor will take on "Your Body Is a Wonderland" by John Mayer.
Team Pharrell:
Elyjuh Rene will take on Ricky Manning in the Knockout Rounds. Rene will sing "With You" by Chris Brown, while Manning will take on the song, "Wrecking Ball" by Miley Cyrus.
Jean Kelley will be pitted against Menlik Zergabachew. Song choice for Kelley is "Chandelier" by Sia, while Zergabachew will take on the song, "Could You be Loved" by Bob Marley.
It may be mentioned that Bryana Salaz, James David Carter, DaNica Shirey, Damien, Jessie Pitts and Luke Wade were selected by their respective coaches in the Knockout Rounds 1, while Sugar Jones, and Taylor Phelan were stolen. However, Griffin, Katriz Trinidad, Toia Jones, and Tanner Linford were eliminated on Monday.
(Image Credit: Screenshot from The Voice 2014 YouTube Video)