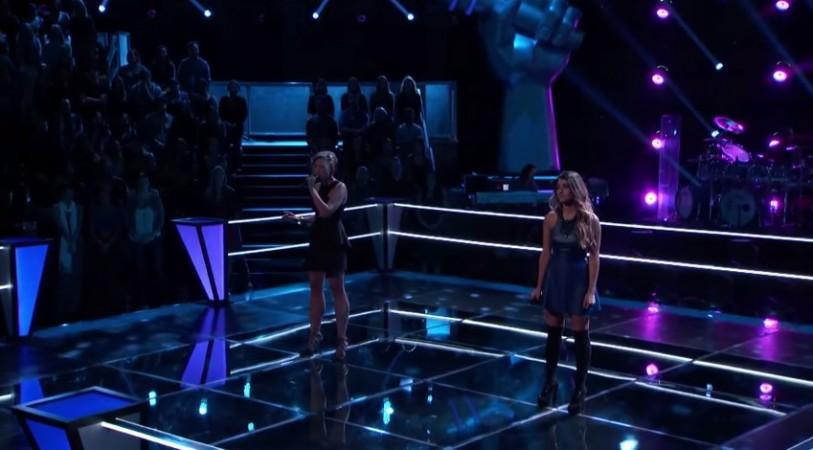 'The Voice' Season 7 Knockout Rounds 1 on Monday was entertaining. Taylor Swift, whose new album, 1989, was released on Monday, was the mentors for the remaining 32 contestants for the Knockout Rounds and it showed on stage. Contestants were pushed out o their comfort zone and their performances were impressive.
Four coaches - Blake Shelton, Gwen Stefani, Pharrell Williams and Adam Levine – took the chairs again to hear their contestants sing for survival. At the end of the show, four contestants were sent home.
Interestingly, the pairings and song choices of the Knockout Rounds 1 revealed in a spoiler turned out right.
"The Voice" USA Season 7 Knockout Rounds 1 Recap:
Team Gwen:
Bryana Salaz sang "Heart Attack" by Demi Lovato, while Sugar Jones took on the song, "Love on Top" by Beyonce in the Knockout Rounds 1. They put up a beautiful rendition but Gwen chose Salaz. However, Sugar is here to stay with Pharrell pressing his steal button.
Team Blake:
James David Carter and Griffin were pitted against each other. Carter sang the song, "You've Got a Friend" by James Taylor, while Griffin rendered "As Long as You Love Me" by Justin Bieber. Blake Shelton chose Carter.
Team Pharrell:
DaNica Shirey and Katriz Trinidad were the next to hit the stage. Shirey sang "Saving All My Love For You" by Whitney Houston, while Trinidad sang "Superwoman" by Alicia Keys. Pharrell chose Shirey.
Team Adam:
Damien sang "How Do I Live" by LeAnn Rimes, while his opponent Toia Jones rendered the song, "Crazy in Love" by Beyonce. Blake chose Damien.
Team Blake:
Jessie Pitts sang "Your Song" by Elton John, while her opponent Tanner Linford sang "Calling All Angels" by Train. Pitts won the Knockout rounds.
Team Pharrell:
Luke Wade was pitted against Taylor Phelan in the Knockout Rounds. Wade sang "Rich Girl" by Hall & Oates, while Phelan sang "Rather Be" by Clean Bandit. Both the contestants performed well but Wade was declared the winner. However, all the coaches – Adam Levine, Blake Shelton and Gwen Stefani pressed their steal buttons for Phelan, who eventually joined Team Adam.