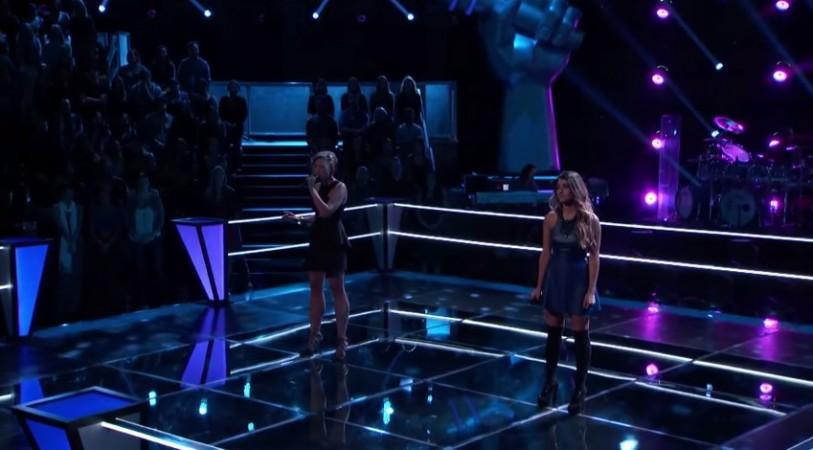 "The Voice" USA Season 7 Battle Rounds have ended after two weeks of fierce competition with 48 contestants giving their all to remain in the contest. 32 of the contestants made it to The Knockouts while 16 were sent home.
Last week saw the finale of the Battle Rounds with 12 contestants hitting the stage to find a place in The Knockouts.
Brittany Butler and Ricky Manning from Team Pharrell sang George Benson's "On Broadway" last week. Butler sang well but it was Manning who took a little more risk and the coaches opined that he had improved a lot from the blind audition. Pharrell Williams chose Manning.
Team Blake's Kensington Moore and Reagan James were the next to hit the stage. They sang Lorde's "Team". However, James was more confident and her coach retained her in his team. Then Blake Shelton pitted Alison Bray against Fernanda Bosch to sing "Sparks Fly" by Taylor Swift and he chose Bray.
Team Gwen's Anita Antoinette and Mayra Alvarez took on the song "I Can See Clearly Now" by Johnny Nash, and Stefani chose the former. She then selected Bryana Salaz over Giana Salvato, who rendered the song "Boom Clap" by Charli XCX.
Team Adam's Beth Spangler and Mia Pfirman were the last to hit the stage. They sang Christina Aguilera's "I Turn to You." Adam Levine chose Pfirman but Stefani would not let Spangler go, as she pressed the steal button.
All the four coaches - Pharrell Williams, Blake Shelton, Gwen Stefani, and Adam Levine – have eight contestants each in their respective teams at the end of the Battle Rounds. The remaining contestants will take on each other again in The Knockouts on Monday.
Here is complete list of contestants who have entered The Knockouts:
Team Pharrell:
Elyjuh René, Luke Wade, Jean Kelley, Taylor Phelan, Menlik Zergabachew, Katriz Trinidad, DaNica Shirey, Ricky Manning
Team Adam:
Chris Jamison, Alessandra Castronovo, Rebekah Samarin, Damien, Blessing Offor, Matt McAndrew, Toia Jones, Mia Pfirrman
Team Gwen:
Sugar Joans, Craig Wayne Boyd, Taylor John Williams, Troy Ritchie, Ryan Sill, Anita Antoinette, Bryana Salaz, Beth Spangler
Team Blake:
James David Carter, Griffin, Grant Ganzer, Tanner Linford, Jessie Pitts, Taylor Brashears, Reagan James, Allison Bray