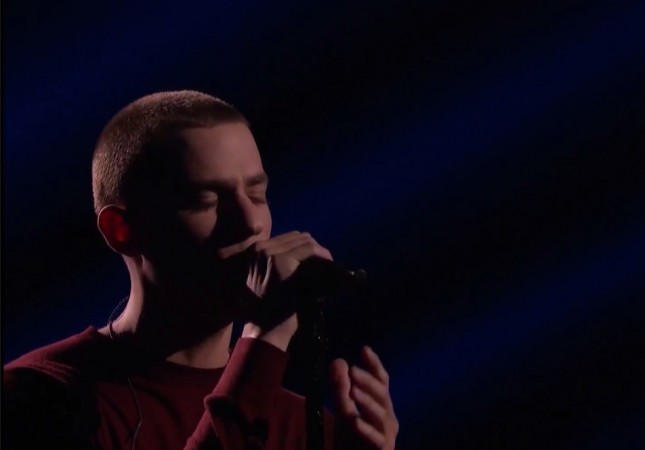 "The Voice" U.S. Season 7 is coming to end with just one live performance remaining before the winner is declared. The remaining top four contestants - Matt McAndrew, Chris Jamison, Damien, and Craig Wayne Boyd will perform one last time this season at the finale on Monday.
The top four contestants will pour out all they have in the finale as the winner of the show will be decided based on public vote.
"The Voice" Season 7 finale will be telecast at 8:00 pm EST on Monday on NBC Television (6.30 am IST, Tuesday) and it can be live-streamed online on Hulu.
Organisers of television talent show are mum on the final episode but a press release given out by NBC has teased a glamorous finale night by hinting that some of the biggest names in the world music industry like Bruno Mars, Jennifer Hudson, Ed Sheeran, Mark Ronson, Hozier and Lynyrd Skynyrd band would light up the stage at the finals.
Media reports suggested that Mark Ronson and Bruno Mars would perform their latest duet "Uptown Funk" from "Uptown Special" album together, while Hozier will sing his hit number "Take Me To Church" and Ed Sheeran perform his hit single "Thinking Out Loud."
A report by Yahoo Music has also claimed that Craig Wayne Boyd will perform with rock band Lynyrd Skynrd, Matt McAndrew with Fall Out Boy, Damien with Jennifer Hudson, and Chris Jamison with Jessie J in the finale before the winner is declared.
Adam Levine gave Michael Jackson's "She's Out of My Life" to Damien, which was pretty challenging, but he did a good job. Some may want a little more emotion from his performance but he is a talented artiste. He then chose Paula Cole's "I Don't Want to Wait" for his second song. It was not a killer performance but he might win critical acclaims for daring to move out of his comfort zone and dare to do something different.
Craig Wayne Boyd of Team Blake took on the song, "Workin' Man Blues" by Merle Haggard but it was an ordinary rendition. Blake Shelton's bad song choice is to be blamed for the poor performance and it hurts more when it came at a critical stage of the competition. Craig then performed gospel song, "The Old Rugged Cross" and it was a good performance.
Taylor John Williams of Team Gwen sang Swell Season's "Falling Slowly", chosen by her coach, but it exposed his weakness instead of his strength. He was not comfortable in the lower register and his pitch was shaky too. He then took on the song, "Blank Space" by Taylor Swift. It was certainly better than his first performance but it looked like that was not enough to take him to the finale though it is left to the viewers to decide.
Matt McAndrew sang Ed Sheeran's "Make It Rain" and U2's "I Still Haven't Found What I'm Looking For" in the semi-finals, while Chris Jamison took on Maroon 5's "Sugar" and Bruno Mars' "When I Was Your Man," and Craig Wayne Boyd took on "Workin' Man Blues" by Merle Haggard and "The Old Rugged Cross." Damien was sent off after his performance of Michael Jackson's "She's Out of My Life" and Paula Cole's "I Don't Want to Wait" in the semi-finals but returned to the show on wildcard with his performance of "Grenade" by Bruno Mars.
However, the song choice of the finalists is not known yet.