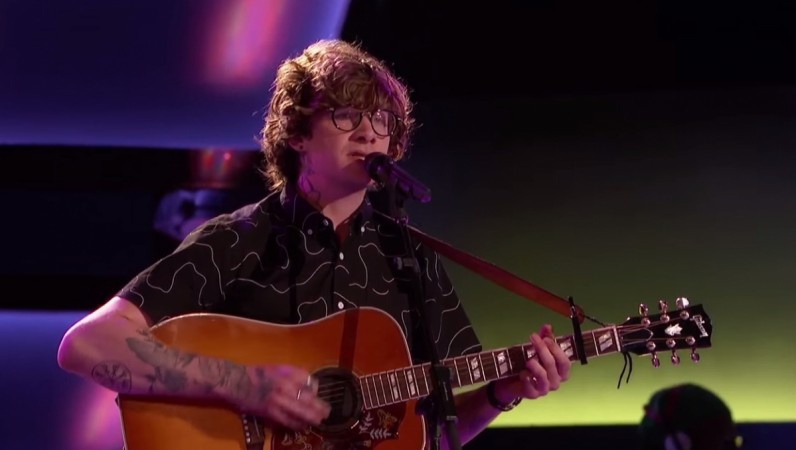 "The Voice" USA Season 7 will enter the Battle Round tonight with coaches pitting two of their candidates against each other for a spot in the next round. Competition is going to be intense, as all the candidates will try to beat their fellow teammates to find a place in the top 24.
Last week saw coaches Adam Levine, Gwen Stefani, Blake Shelton and Pharrell Williams filling their respective teams with 12 candidates each, taking the total number of contestants to 48. Now, each coach will pair two of their contestants to perform the same song in the Battle Round and choose one to proceed to the next round.
The Battle Round 1 of "The Voice" USA Season 7 will be telecast at 8 pm EST on NBC Television (6.30 am IST, Tuesday). The number of contestants will be narrowed down to 24 after the Battle Rounds.
The organisers of the talent show haven't revealed the names of the contestants, who will hit the stage in Battle Round 1, but Entertainment Weekly has announced the pairings in its report. Here is the list of contestants, who will compete against each other tonight, according to the website:
Team Pharrell
Griffin vs Luke Wade: They will perform "Maybe I'm Amazed" by Paul McCartney
Elyjuh Rene vs Maiya Sykes: They will perform "If I Aint Got You" by Alicia Keys
Jordy Searcy vs Taylor Phelan: They will perform "Breakeven" by The Script
Team Gwen
Amanda Lee Peers vs Taylor John Williams: They will perform "Jolene" by Dolly Parton
Jean Kelley vs Sugar Joans: They will perform "Survivor" by Destiny's Child
Menlik Zergabachew vs Troy Ritchie: They will perform "Maneater" by Hall and Oates
Team Blake
Craig Wayne Boyd vs James David Carter: They will perform "Wave on Wave" by Pat Green
Grant Ganzer vs John Martin: They will perform "Stop and Stare" by One Republic
Justin Johnes vs Tanner Linford: They will perform "You and I" by One Direction
Team Adam
Chris Jamison vs Jonathan Wyndham: They will perform "Young Girls" by Bruno Mars
Alessandro Castronovo vs Joe Kirk: They will perform "Stay" by Rihanna ft Mikky Ekko
Clara Hong vs Rebekah Samarin: They will perform "Will You Still Love Me Tomorrow" by Carole King
Team members will fight out in duets in this round to impress their coaches and proceed to the next round. The team advisors of the show are: Stevie Nicks for Team Adam, Gavin Rossdale for Team Gwen, Little Big Town for Team Blake and Alicia Keys for Team Pharrell.
Here is complete list of contestants:
Team Adam: Alessandra Castronovo, Kelli Douglas, Damien, Joe Kirk, Clara Hong, Mia Pfirrman, Ethan Butler, Chris Jamison, Rebekah Samarin, Jonathan Wyndham, Matt McAndrew, Beth Spangler
Team Gwen: Anita Antoinette, Sugar Joans, Jessie Pitts, Menlik Zergabachew, Bryana Salaz, Taylor John Williams, Troy Ritchie, Jean Kelley, Amanda Lee Peers, Gianna Salvato, Ryan Sill, Mayra Alvarez
Team Pharrell: Maiya Sykes, Danica Shirey, Elyjuh René, Jordy Searcy, Katriz Trinidad, Luke Wade, Blessing Offor, Ricky Manning, Taylor Phelan, Toia Jones, Brittany Butler, Griffin
Team Blake: Allison Bray, Bree Fondacaro, James David Carter, John Martin, Kensington Moore, Reagan James, Taylor Brashears, Tanner Linford, Craig Wayne Boyd, Grant Ganzer, Fernanda Bosch, Justin Johnes