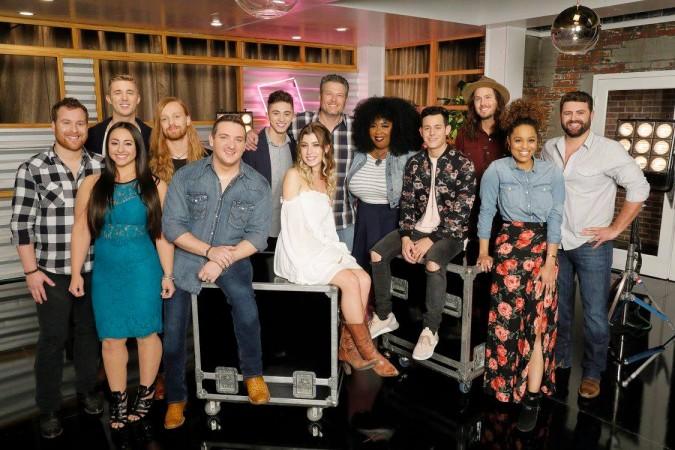 The Voice season 14 has moved to the battle round after having wrapped up the blind auditions last week. Six pairs performed on the first night of the battles, and we will see more contestants taking the stage Tuesday in the hope of moving to the next round of competition – knockouts.
The battle round, which started Monday, will most probably be screened in four episodes. Only six out of the total 24 pairs have performed, which means there are lots of actions ahead.
Monday saw Jamai and Sharane Calister (Team Alicia), Brynn Cartelli and Dylan Hartigan (Team Kelly), JessLee and Kyla Jade (Team Blake), Rayshun LaMarr and Tish Haynes Keys (Team Adam), Shana Halligan and Christiana Danielle (Team Alicia), and D.R. King and Jackie Foster (Team Kelly) perform. Sharane, Brynn, Kyla, Rayshun, Christiana, and D.R. were picked by their respective coaches for the next round of competition, while three rejected contestants -- Dylan, Tish and Jackie -- were stolen by other coaches.
Where to watch The Voice USA 2018 battles live
The Voice season 14 battle round 2 will be telecast Tuesday at 8 pm EST / 5 am PT / 06:30 am IST (Wednesday) on NBC. It will also be live-streamed on NBC's official website (restricted to certain areas).
We don't know the pairings of Tuesday's episode but what we do know is that there are 18 more pairs to perform before moving to the knockout round. A total of 32 contestants, who survive the battles, will progress to the next round.
Here is the list of contestants who are yet to perform in battles
Team Adam: Drew Cole, Levelle Davison, Mia Boostrom, Reid Umstattd, Angel Bonilla, Stephanie Skipper, Maya Base, Gary Edwards
Team Alicia: Britton Buchanan, Kelsea Johnson, Jaclyn Levey, Johnny Bliss, Terrence Cunningham, Jordan Symone, Megan Lee, Livia Faith
Team Kelly: Justin Kilgore, Molly Stevens, Jorge Eduardo, Jamella, Alexa Cappelli, Teana Boston, Hannah Goebel
Team Blake: Kaleb Lee, Pryor Baird, Brett Hunter, Austin Giorgio, Spensha Baker, Wilkes, Jaron Strom, Bransen Ireland, Jordan Kirkdorffer