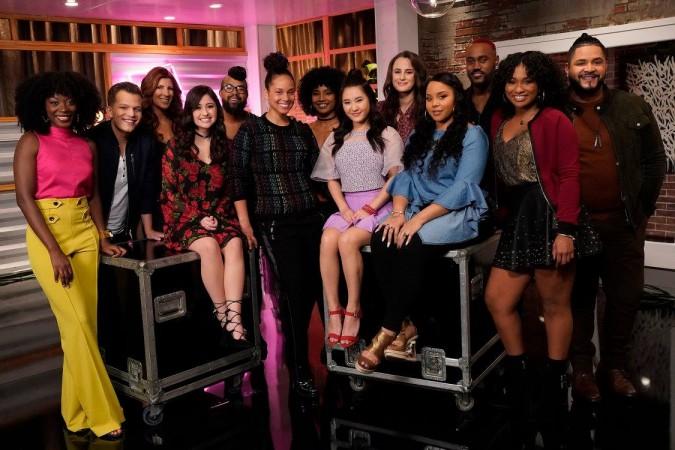 The battle round of The Voice season 14, which started last week, will continue this week with the screening of two more episodes. Performances of the remaining 24 contestants will be screened Monday and Tuesday.
The coaches – Adam Levine, Alicia Keys, Kelly Clarkson and Blake Shelton – pair their own team members against each other in the battle round. They can keep only one singer from each pair and the rejected contestant is made available to other coaches for steal. They will move to the knockout round with eight members each, including two stolen artists.
The makers of The Voice USA 2018 have released a sneak peek video of one of the performances to be screened Monday. Miya Bass and Drew Cole of Team Adam were seen performing Knockin' on Heaven's Door by Bob Dylan and it's a beautiful rendition. They received a standing ovation from their coach Adam, Kelly and Alicia, but it remains to be seen who progresses to the next round.
The Voice season 14 battle round 3 will be telecast Monday at 8 pm EST / 5 am PT / 06:30 am IST (Tuesday) on NBC. The episode will be live streamed on NBC's official website (restricted to certain areas).
Here is the list of contestants who will perform in the next two episodes to be screened this week:
Team Adam: Drew Cole, Mia Boostrom, Angel Bonilla, Stephanie Skipper, Miya Base, Gary Edwards, Genesis Diaz, Jackie Verna
Team Alicia: Britton Buchanan, Jaclyn Levey, Terrence Cunningham, Livia Faith
Team Blake: Kaleb Lee, Pryor Baird, Brett Hunter, Austin Giorgio, Spensha Baker, Wilkes, Jordan Kirkdorffer, Dallas Caroline
Team Kelly: Justin Kilgore, Molly Stevens, Alexa Cappelli, Hannah Goebel
A total of 16 singers have qualified for the knockouts and they are Sharane Calister (Team Alicia), Brynn Cartelli (Team Kelly), Dylan Hartigan (stolen by Blake), Kyla Jade (Team Blake), Rayshun LaMarr (Team Adam), Tish Haynes Keys (stolen by Kelly), Christiana Danielle (Team Alicia), D.R. King (Team Kelly), Jackie Foster (stolen by Adam), Jorge Eduardo (Team Kelly), Reid Umstattd (Team Adam), Jaron Strom (Team Blake), Johnny Bliss (Team Alicia), Jamella (Team Kelly), Kelsea Johnson (Team Alicia), and Jordyn Simone (stolen by Adam).