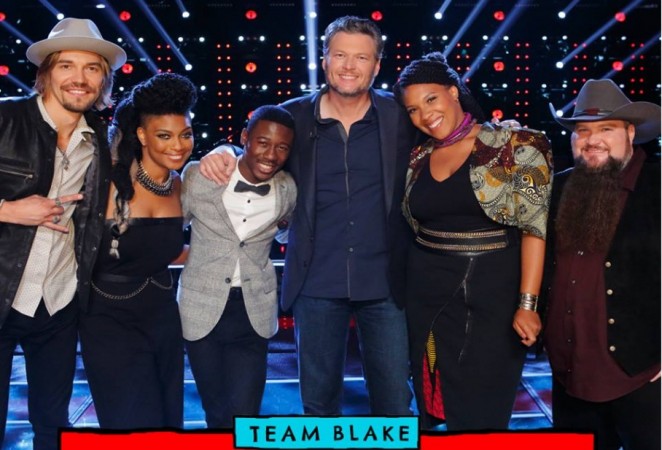 The US presidential elections spoilt The Voice Season 11 (USA) 2016 Playoffs to some extent as the episode was cut short. Live Playoff usually runs for two days – live performance night and elimination episode – but the results were declared on the day of performance because of the elections.
The top 20 contestants performed live on Monday night. A total of 12 singers progressed to the next round, while eight of them were sent home. The audience chose two contestants each from each team through real-time voting via Twitter and the Voice app, while the coaches -- Adam Levine, Miley Cyrus, Alicia Keys and Blake Shelton -- chose one from among the rest. Each coach will go to the next round of competition with three artistes.
[READ: 'The Voice' Season 11 (USA) 2016 shocking results]
Here is complete list of top 12 contestants:
Team Adam
Billy Gilman – performed "Crying" by Roy Orbison in the Playoffs
Josh Gallagher – performed "Colder Weather" by Zac Brown Band this week
Brendan Fletcher - rendered "To Love Somebody" by Bee Gees
Team Alicia
Christian Cuevas – performed "Yesterday" by the Beatles
Wé McDonald – performed "Home" by Stephanie Mills
Sa'Rayah – performed "I'd Rather Go Blind" by Etta James
Team Miley
Aaron Gibson – performed "Round Here" by Counting Crows
Ali Caldwell – performed "Times Have Changed" by Irma Thomas
Darby Walker – performed "Those Were the Days" by Mary Hopkin
Team Blake
Sundance Head – performed "Blue Ain't Your Color" by Keith Urban in the playoffs
Austin Allsup – rendered "I Ain't Living Long Like This" by Waylon Jennings
Courtney Harrell - performed "It Must Have Been Love" by Roxette
Contestants who were eliminated in "The Voice" Season 11 (USA) 2016 Playoffs are Riley Elmore (Team Adam), Simone Gundy (Team Adam), Kylie Rothfield (Team Alicia), Josh Halverson (Team Alicia), Sophia Urista (Team Miley), Belle Jewel (Team Miley), Dana Harper (Team Blake), and Jason Warrior (Team Blake).