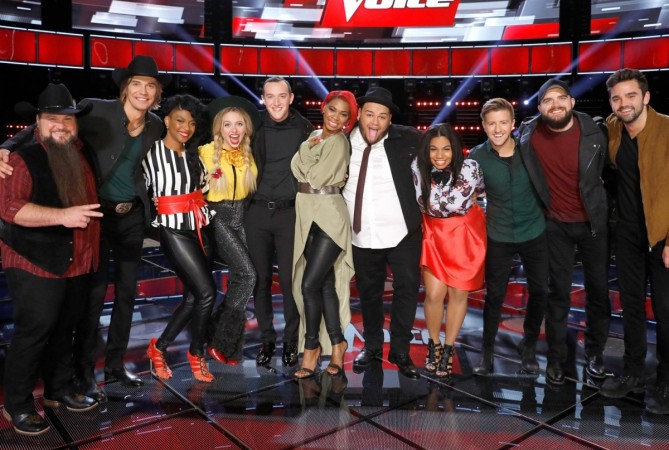 "The Voice" Season 11 (USA) 2016 is down to just 10 contestants after live shows week 3. The results episode on Tuesday wasn't as painful as week 1 when a total of eight singers were sent home. Darby Walker of Team Miley was shown the doors last night.
Host Carson Daly took the stage to declare the results, something he might least enjoy in the competition. He announced the names of the winners: Sundance Head (Team Blake), Wé McDonald (Team Alicia), Ali Caldwell (Team Miley), Billy Gilman (Team Adam), Austin Allsup (Team Blake), Brendan Fletcher (Team Adam), Christian Cuevas (Team Alicia), Courtney Harrell (Team Blake) and Josh Gallagher (Team Adam).
[READ: 'The Voice' Season 11 (USA) 2016 shocking results]
That left Aaron Gibson and Darby Walker, both from Team Miley, in the bottom two, which meant they had to sing again for public vote.
Darby Walker took on Elton John's "Your Song" for the instant save. She had pitch issue but it was decent performance. Then Aaron Gibson sang "Budapest" by George Ezra. It was a good performance, good enough to beat his teammate.
The audience save Aaron Gibson. Walker was sent home.
Adam Levine and Blake Shelton still have three contestants each in their respective teams while Alicia Keys and Miley Cyrus has only two singers each left.
Here is complete list of top 10 contestants and the songs they performed on Monday:
Team Adam
Billy Gilman – performed "All I Ask" by Adele
Josh Gallagher – performed "Drunk on Your Love" by Brett Eldredge
Brendan Fletcher - rendered "The River" by Bruce Springsteen
Team Alicia
Christian Cuevas – performed "Rosanna" by Toto
Wé McDonald – performed "Love on the Brain" by Rihanna
Team Miley
Aaron Gibson – performed "Hurt" by Nine Inch Nails
Ali Caldwell – performed "9 to 5" by Dolly Parton
Team Blake
Sundance Head – performed "No One" by Alicia Keys
Austin Allsup – rendered "Turn the Page" by Bob Seger & The Silver Bullet Band
Courtney Harrell - performed "What I Did for Love" from the musical A Chorus Line