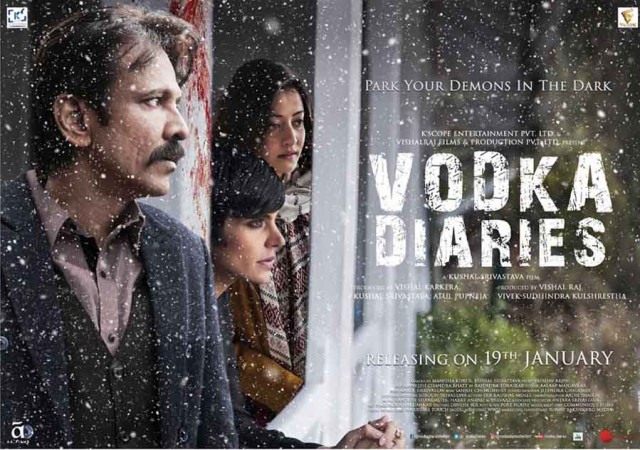 Bollywood moviegoers are being treated to Kay Kay Menon-starrer Vodka Diaries on Friday, January 19. The thriller movie looked promising in its trailer, but the critics' verdict says something else.
Vodka Diaries is a suspense thriller directed by Kushal Srivastava, featuring Kay Kay, Raima Sen, Mandira Bedi and Sharib Hashmi. Kay Kay is playing the role of ACP Ashwini Dixit.
In the misty town of Manali, ACP Ashwini Dixit attempts to solve a series of mysterious murders happening in a single night, which might be connected to the nightclub Vodka Diaries.
The inflexion point comes when the officer's wife (played by Bedi) is abducted. Naturally, the time is running out for Dikshit and he must catch hold of the person behind these ruthless actions before it gets too late.
The premise may sound interesting, but the film gives the opposite impression. Critics have given 1-2 stars to the movie.
Take a look at the critics' review here:
Kushal Srivastava of Firstpost said: "If you have watched enough films of the genre (Shutter Island, Mr. Robot, Fight Club, etc), you can figure out one big plot twist within the first few minutes. First-time director Kushal Srivastava's effort is evident as he attempts to make the most of this messy material, building suspense in some scenes, but dropping the pace in others. It's no surprise that ACP Dixit is unable to get a grip on the plot either, because the plot of 'Vodka Diaries' was already lost."
Shubhra Gupta of The Indian Express said: "By the time we get an explanation, we have pretty much twigged on to the 'mystery', such as it is. The answer is right there, in front of us, but it begs the question: just why, with a notable exception or two, doesn't Bollywood make any worthwhile thrillers? Sadly, the reliable Menon is wasted. So is our time."
Rohit Vats of Hindustan Times said: "Vodka Diaries is about under-utilised actors and losing a promising opening. It probably needed a more thorough approach."
Nandini Ramnath of Scroll.in said: "Vodka Diaries has more false moments than the mighty eye-lashes of Raima Sen, playing a femme fatale. The screenplay loses its way after the angle of Shikha's disappearance is introduced. The ones who have guessed the direction in which the plot is going will have all the time in the world to ponder over why the talented Menon agreed to be a part of such dross."
IANS: "'Vodka Diaries' is not a great suspense drama when compared with the Hitchcockian tradition. God knows, the genre has not been much explored in Bollywood. Still in its infancy the whodunit gets a rather likable shake-up on this occasion. "Vodka Diaries" stays true to the path of deception and betrayal that the suspense genre adapts and makes some sharp swings into the unexpected towards the end."