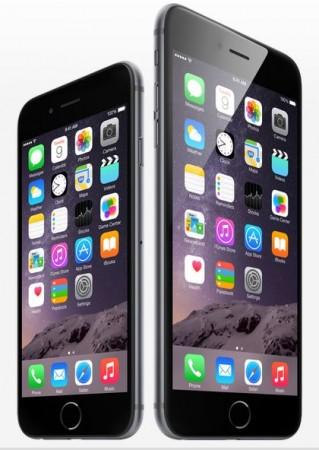 In order to revive the Indian wireless industry, Vodafone has come up with some exciting new offers on Apple iPhones.
The second largest mobile carrier in India announced the new tariff plans on Thursday. It offered customers calls, SMS and 3G data bundled with an iPhone, without having to pay anything upfront. The new plans are also applicable on the latest iPhone duo - the iPhone 6 and 6 Plus. Vodafone's offer is similar to the long-running contract concept in the U.S. wireless industry.
Vodafone's new iPhone offers start 17 January at as low as Rs. 3,599 per month for the iPhone 6, for 24 months. This covers the cost of the handset, local and STD calls, messages and 3D data during the entire tenure. The EMI offer also extends to other iPhone models such as the iPhone 6 Plus, iPhone 5S, iPhone 5C and the aging iPhone 4S. With the purchase of any iPhone model, subscribers will get 6,000 local and STD minutes, 6GB of 3G data and 1,500 SMS per month. After exhausting the given limits, customers will be charged as per the usual tariff.
Subscribers with heavy usage can also opt for the 10K Plan, which includes 10,000 local and STD minutes, 10GB 3G data and 2,500 SMS, for Rs. 400 extra per month.
The zero down payment option is available just on the iPhone 6 model, whereas other iPhones require a low down payment. For the iPhone 6 Plus 16GB model, the minimum down payment is Rs. 8,490 and the iPhone 5S, 5C and 4S models need a down payment of Rs. 4,990. The monthly EMI for the iPhone 5S is Rs. 2,999 per month for 24 months, under the 6K Plan. Similarly, the EMI reduces to Rs. 2,499 per month for 24 months in the case of iPhone 5C and Rs. 2,099 for the iPhone 4S.
"Our all-inclusive and fully-loaded data plans will allow customers to have a hassle-free experience with no upfront costs and additional savings on monthly plans," ET quoted Marten Pieters, MD & CEO of Vodafone India, as saying. "We see data as a strong growth driver in the years to come and believe these kind of innovative offers add to our efforts in the growth of this segment."
Below is a table to show the down payment and EMI payments for different iPhone models and storage options.
| | | | | | |
| --- | --- | --- | --- | --- | --- |
| Apple iPhone Models | Monthly EMIs(6K Plan) | Down Payment (16GB) | Down Payment (32GB) | Down Payment (64GB) | Down Payment (128GB) |
| iPhone 6 | Rs. 3,599 | Zero | - | Rs. 8490 | Rs. 15,990 |
| iPhone 6 Plus | Rs. 3,599 | Rs. 8,490 | - | Rs. 15,990 | Rs. 23,490 |
| iPhone 5S | Rs. 2,999 | Rs. 4,990 | Rs. 8,490 | - | - |
| iPhone 5C | Rs. 2,499 | Rs. 4,990 | - | - | - |
| iPhone 4S | Rs. 2,099 | Rs. 4,990 | - | - | - |
As per these plans, the total cost of an iPhone 6 with bundled data will come up to Rs. 86,376. Also, after activating the plan, subscribers cannot change or upgrade for the next 24 months. If customers wish to have a shorter tenure, Vodafone is offering 12 months offer and also upfront cash payment. To kick off this new offer, Vodafone is offering Rs. 3,000 cash back on all models of iPhone 6 Plus and iPhone 5S, which ends March 31.