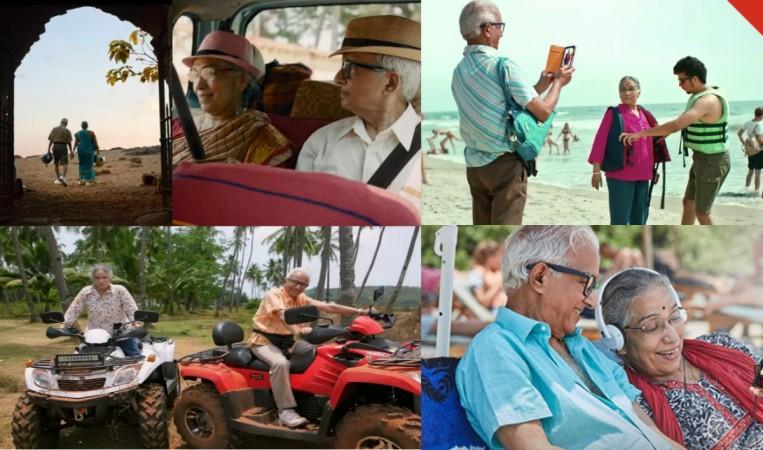 Planning to watch a movie on television or your favourite show online? Sorry, you will have to tolerate the number of advertisements that come along as part and parcel of our life in the virtual world. But how often you watch them without changing the channel or skipping the ad?
There are two options: the makers can either create interesting ads to catch the attention of people, or bizarre ones, which does the same purpose! Attention seeking!
While we come across many ads daily, there are only a few impressive ones that we are ready to watch again and again without feeling boredom. Be it the happy to help pug ads, or zoo zoo or the latest Make Most of Now, commercials of British multinational telecommunications company Vodafone have always grabbed the attention of the audience.
The latest campaign, #MakeMostofNow promotes the SuperNet 4G of Vodafone, but what makes it catchy among other commercials? The ads show a grandpa and granny, who are enjoying their second honeymoon in Goa, visiting the tourist destination for the first time in 35 years. So far, six videos of the couple have been released, and they are seen engaging in many adventurous activities in Goa — riding a scooter and exploring Dil Chahta Hai ort, partying with strangers, dancing on a boat, tattooing and even para sailing.
Were you awestruck with the natural performances of the duo in these ads? And ever wondered who they are? Interestingly, the real life couple VP Dhananjayan, 78, and 73-year-old Shanta Dhananjayan are Padma Bhushan winning Bharatanatyam dancers from Chennai, Tamil Nadu. However, this is not the first commercial featuring them, they have earlier appeared in few other regional ads like Nerolac Paints and Kumaran Silks as well.
"When Nirvana Films explained the copy, we found it very interesting. It was not like the usual ads. These were characters we were enacting. Now, we have been getting calls and emails from all over the world. People are saying we are looking cute and natural - like we normally are," the couple is quoted as saying by a website named afaqs. The interesting ads have been directed by Prakash Varma, written by Ogilvy and produced by Nirvana Films.
The legendary dancing couple are now the bindass old couple invading living rooms across India.
Watch the interesting advertisements here:
Day one - finding the tour guide
Day 2 - Exploring Goa themselves
Day 3 - Making new friends in Goa, and grandpa tattooing
Day 4 - Granny's parasailing adventure
Day 6 - learning new dance steps
Day 8 - The last day
-