Within a very short period of time, Vladamir Putin has achieved quite a lot and his life is changing in a speed that a roller-costar ride would not match.
Within a year, the man who is increasingly emerging to be the most powerful man on earth, went through a spate of events that kept in stubbornly in major international headlines.
Last June, he announced his separation from his wife of 30 years. He successfully tackled the Volvagrad bombings last December and managed to save the grand Sochi Olympics from being targets of any terrorist outfits - or so he would claim.
Only a month ago, he swiftly swallowed the entire chunk of Ukraine's territory called Crimea, while the whole international community stood dumb-struck glaring at the audacity of this one man who fears none!
Now, this pompous leader, who has never ceased to dominate headlines, has successfully managed to move on from his long-time marriage with Lydmila Putina.
On Thursday, Putin officially stands as a divorced man as Kremlin announced his official separation in a posthumous statement, as something really great had happened.
But if ever anything is to be considered 'great,' it will be what is to come next. It is obvious that the man who has long been rumored to have an affair with the vivacious and adorable Olympic rhythmic gymnast, Alina Kabayeva will take his next big move swiftly and easily, just like he undertook the rest of the Kremlin dramas.
The Moscow Times says: "The president's official biography that previously mentioned his wife, Lyudmila, now only lists their daughters Maria, 28, and Yekaterina, 27". Oh Great! Now will there be the name of Alina Kabayeva listed there as the two girls' step-mom? (She is, by the way, only a few years older than the two daughters!)
Reuters News agency notes that Putin, an ex-KGB spy mostly "keeps his personal life private and little is known about his wife and two daughters, both in their 20s."
The news agency adds: "In 2008, Putin said there was no truth to a newspaper report that he was preparing to marry Olympic rhythmic gymnast Alina Kabayeva, who was born in 1983, the same year he married Lyudmila."
But he said that in 2008, he must have changed his mind by 2014, now that he is official divorced.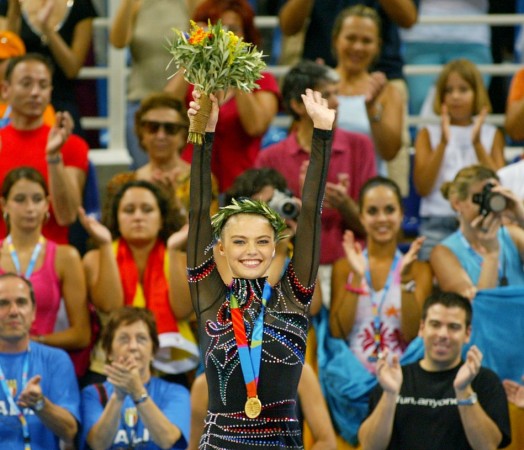 The young charming Kabayeva took away the breaths of many onlookers when she appeared as one of the torchbearers at the opening of the Sochi Winter Games in February. It was the moment that rekindled "speculation that she was a favourite of the Russian leader," the BBC rightly notes.
The removal of Lyudmila from his official biography, many say, has amounted to a Soviet-style attempt to rewrite history. But the history could soon be more interesting, if the Russian leader marries his alleged sweetheart.
Will he really do this? Only time will tell, although it is most likely, he will!