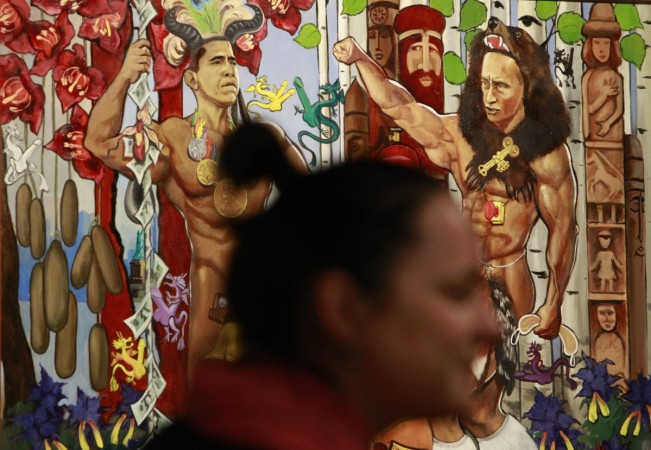 On his 62nd birthday, Russian President Vladimir Putin has received the best 'gift' of sorts, something other world leaders could only fancy.
Supporters in Moscow hosted a one-day art exhibition called "The 12 Labours of Vladimir Putin," on Monday, where the Russian leader was depicted as the mythological hero Hercules.
The paintings depict the leader as the Greek hero recast in modern-day current affairs where he is fighting western nations or leaders represented in the form of serpents and monsters while also taming an ox which bore the symbol of Crimea – the Ukrainian peninsular region that chose to join Russia earlier this year following a referendum.
Hercules is the son of Greek god Zeus, who is famous for his unmatched strength and numerous far-ranging adventures.
The Russian President's current approval rating in the country is above 80%, according to reports. In the capital city, many banners were seen fluttering in various public places wishing him "Happy Birthday."
Many supporters, dressed in red, white and blue – the colours of the Russian flag – took to the streets on Tuesday in cities such as Grozny, the capital of Chechnya.
Here are some tweets from news sources showing the paintings of Putin depicted as 'Hercules':
Putin depicted as Hercules in art exhibition to coincide with his 62nd birthday http://t.co/AxcjpeVhbo pic.twitter.com/g8KIvWjYwH

— Wall Street Journal (@WSJ) October 8, 2014
Vladimir Putin's fans try to create a 'different' image of the Russian leader http://t.co/fccbx9ZxGu pic.twitter.com/hIf2XFicpF — The Independent (@Independent) October 8, 2014
Putin as Hercules, 100k human flag and other unusual things for President's birthday http://t.co/xQfZa3cWz7 pic.twitter.com/QTxTUPsAHq

— RT (@RT_com) October 7, 2014