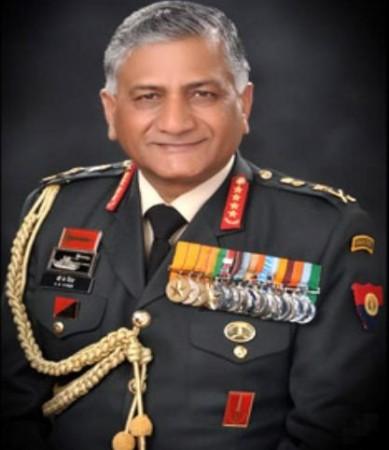 Former Army chief General VK Singh, addressing the allegations that he had funded Jammu and Kashmir ministers to topple the Omar Abdullah government, claimed that J&K politicians were paid to keep the state stabilised and that it was not something new.
The Indian army submitted a report to the Ministry of Defence recently about the secret intelligence unit Technical Support Division (TSD), suspected of conducting secret spying missions on MoD officials, under the watch of former Army chief VK Singh.
According to Indian Express, Singh allegedly paid ₹1.19 crore to Ghulam Hassan Mir, J&K agriculture minister, to destablise the Omar Abdullah government, and also gave ₹2.38 to one Hakikat Singh who used the money to set up an NGO, which was in turn linked to another NGO that filed a PIL against current Army chief Bikram Singh.
During an interview on Times Now, Singh claimed that all J&K ministers have been paid since Independence and that everyone, including the defence minister, are aware of it.
"There are various things to be done as part of the stabilising factor in Jammu and Kashmir. Who funded the KPL?" he asked, referring to the Kashmir Premier League cricket tournament.
"Was it the Jammu and Kashmir government that funded it? Was it the honourable chief minister who funded it? It was the Army. Why was there a requirement for the Army to fund it is a different issue all together."
The retired military officer also confirmed that the TSD unit in the army had transferred money to a J&K-based NGO.
"The Army transfers money to all the ministers in Jammu and Kashmir... there are various things to be done. As part of the stabilising factor in Jammu and Kashmir, as part of the activities to be organised. Maybe not all the ministers but certain ministers and people who are given a certain sum to get a particular thing done," he told Times Now.
Asked whether Chief Minister Omar Abdullah was aware about such monetary transfers, Singh said, "If as a chief minister you do not know this, you are not running the state".
On being asked whether the TSD paid state minister Mir from the secret funds Singh added, "If such a possibility is there I am sure there must be a reason for a particular transaction or number of transactions to this person".
The former Army chief also lashed out at The Indian Express. "I do not consider The Indian Express to be a newspaper...it should be thrown into the waste basket," he said. On Monday, Singh had accused Indian Express editor-in-chief Shekhar Gupta of tax fraud.
Latest Reactions
Nirmala Sitharaman, BJP spokesperson: "These things are to be handled with a great sense of discretion and faults, if any, will have to be punished. But doing it in public hurts the implicit trust and faith of citizens. It demoralises the services and it also goes to undermine institutions, in this case military intelligence," she told the newspaper daily.
Kiran Bedi, former IPS officer and social activist: "More @Gen_VKSingh speaks, more the government shall have to duck!Did they not know that this General was not expecting any reemployment?"
"Because fmr Chief of Army @Gen_VKSingh did not wait for rehab or re-employment from Govt and chose an independent route, it decides to hit!" she tweeted.
Sushil Kumar Shinde, Union Home Minister: "He should name the ministers to whom money has been given," he told ANI.
Devender Singh Rana, National Conference leader: "The former Army Chief is making such reckless and unsubstantiated statements. If any ministers were paid money, then I would ask Gen Singh to name those ministers," he told the news agency.
Farooq Abdullah, NC leader and father of Omar Abdullah: "Time has come for CBI inquiry on what funding army has done and who has received these funds."