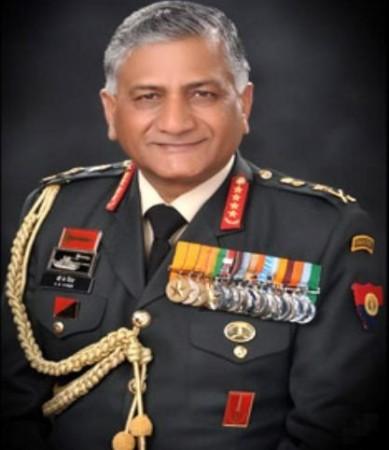 Restrain was not an option for minister of state for external affairs General VK Singh after attending the Pakistan Day celebrations in the national capital on Monday. Following the function which took place in the Pakistan high commission, Singh tweeted the hashtag "DISGUST".
The event also marked the presence of Kashmiri separatist leaders Yaseen Malik, Syed Ali Shah Geelani and Mirwaiz Umer Farooq, reports The Times of India.
Feeling uneasy while sitting next to Pakistani high commissioner Basit Ali, Singh left the party after just a few minutes.
"The government of India had to sent an MoS. They sent me and I went there and came back," he said after a reporter queried about his presence at the reception.
On being asked whether Prime Minister Narendra Modi told him to attend the event, Singh said, "The government of India asked me to go there."
Chairman of Hurriyat Conference Mirwaiz Umar Farooq, along with Bilal Gani Lone, Abdul Gani Bhat, Maulana Abbas Ansari, Aga Syed Hassan, Mukhtar Ahmad Waza and Mussadiq Adil held talks with Basit Ali last night.
#'Disgust'ed to see how certain sections of the media are twisting this issue

— Vijay Kumar Singh (@Gen_VKSingh) March 23, 2015
#DISGUST To offend the moral sense, principles, or taste of — Vijay Kumar Singh (@Gen_VKSingh) March 23, 2015
#DISGUST To sicken or fill with loathing

— Vijay Kumar Singh (@Gen_VKSingh) March 23, 2015
#DUTY The force that binds one morally or legally to one's obligations — Vijay Kumar Singh (@Gen_VKSingh) March 23, 2015