Oppo recently launched its F9 Pro with several upgrades and it looks like Vivo is adopting one of the main features of its rival for an upcoming smartphone of its own. Vivo has confirmed the launch of the all-new X23 smartphone in China on September 6, where it will reveal the official pricing, specs and availability of the phone.
Vivo shared the official news with a poster that shows the X23's blueprint, confirming a tiny waterdrop-shaped notch just like the one we've seen in the Oppo F9 Pro. But Vivo went a step further and added the in-display fingerprint scanner to gain an edge over its rival.
But the waterdrop-shaped notch isn't the only feature Vivo has borrowed from Oppo F9 Pro. Since Vivo X23 is already listed on the China website, the full design of the handset has been revealed. The handset is seen with a 3D premium gradient finish glass panel design in different colour options. We can expect Purple and Blue colours to be available in X23.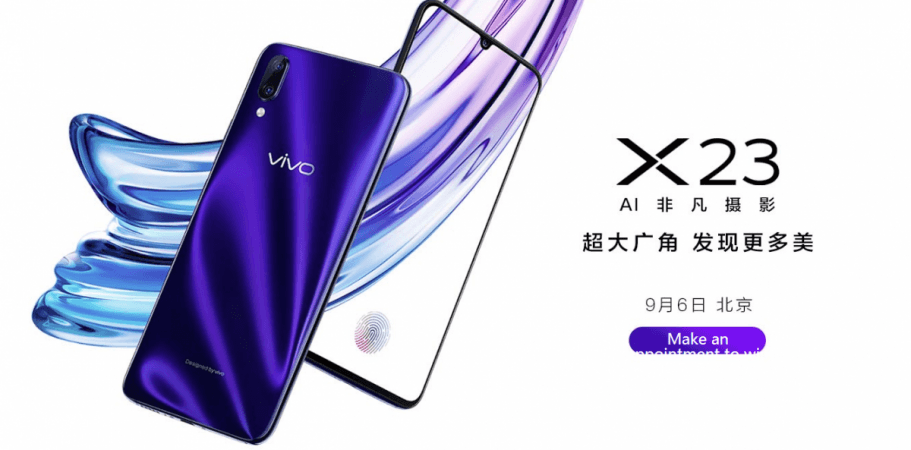 Vivo X23 is also seen with a dual rear camera setup, a single front sensor outlined by the tiny notch and a display with 91.2 percent screen-to-body ratio. Other details haven't been listed on the website, but we expect to know them as soon as next week.
Earlier reports have suggested Vivo X23 will feature Qualcomm Snapdragon 670 processor, 8GB RAM, a 6.4-inch display and an independent audio DAC. Additionally, the smartphone will feature advanced 3D face recognition for quick unlock.
Besides the missing details on the phone's specs, there are no hints on the X23's release in India. But seeing Vivo launched the X21 in India months after its official unveiling, we wouldn't advise fans to hold their breath for a release anytime soon.