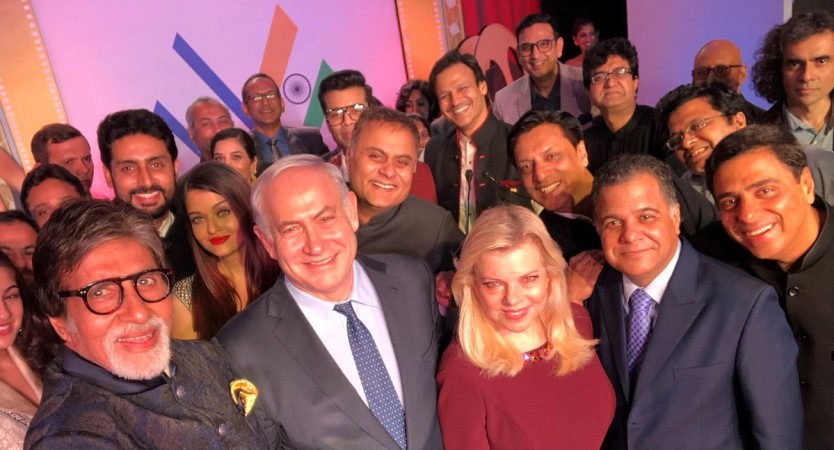 Israeli Prime Minister Benjamin Netanyahu's India visit is set to conclude today. One of the highlights of his visit has been his photos with Bollywood celebrities, which showed his love for Hindi cinema. He even took a selfie with B-Town stars and posted it on his Twitter tagging Ellen DeGeneres.
You know why? Well, his photo caption will say it all.
Israel PM tweeted: "Will my Bollywood selfie beat @TheEllenShow Hollywood selfie at the Oscars? @SrBachchan @juniorbachchan @rajcheerfull @imbhandarkar @vivek_oberoi."
The photo is surely an Oscar moment and can beat Ellen's Hollywood selfie. While the picture won hearts, there's one thing that you might have missed in it.
The photo has Aishwarya Rai Bachchan and Vivek Oberoi in one frame. Before tying the knot with Abhishek Bachchan, Aishwarya dated Vivek. Their relationship became a major gossip when the Saathiya actor irked Aish's ex, Salman Khan.
Aishwarya is one of the actresses who doesn't like sharing frames or being cordial to her exes. Thus, seeing her with Vivek in the Bollywood selfie with Israel PM came as a surprise.
The selfie, which is going viral, also has Abhishek, Amitabh Bachchan, Sara Ali Khan, Abhishek Kapoor, Karan Johar, Madhur Bhandarkar, Imtiaz Ali, Raj Nayak and Prasoon Joshi.
Bollywood sure knows how to make foreign dignitaries comfortable in the country. Israel PM looked really happy posing with them.
He has given us an amazing moment before leaving India, isn't it? Otherwise, it is difficult to bring two exes together in the same frame.
For the uninitiated, Vivek and Aishwarya had dated for a short span. Many believe that he was Aish's rebound after she broke up with Salman Khan. Vivek had earlier accused Salman of giving him death threats and held a press conference about it.
In an old interview with Mumbai Mirror, Vivek had said that "it was like a fatwa issued against me from the powers that be". He also said that movie offers did not come to him even after delivering a hit.
"When my personal life got messed up, I couldn't keep my eye on the ball. Even if I gave a hit, work wouldn't follow. Shootout at Lokhandwala became a huge hit, but I sat at home for a year after that," he had revealed, suggesting that no one was approaching him for roles as Salman had instructed all not to.