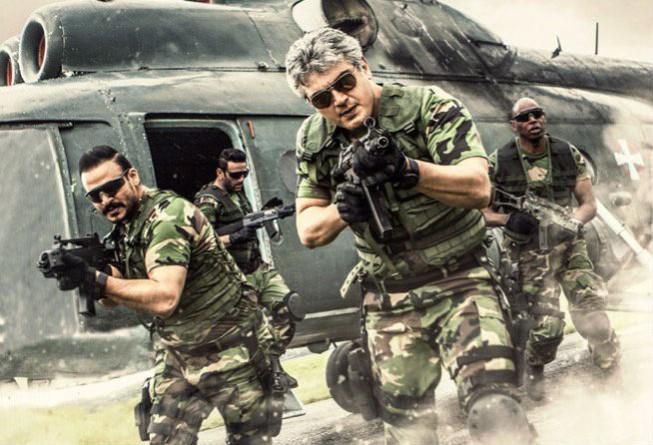 Ajith's Vivegam is all set to hit the screens on Thursday, August 24, ahead of the Ganesh Chaturthi festival. The movie is releasing in a massive number of screens with rumours claiming the total screen count to touch about 1,500.
The movie has made a record-breaking pre-release business. His film has earned Rs 119 crore from the sale of theatrical and audio rights, Andhra Box Office reports.
The makers have earned Rs 52.7 crore from the sale of Tamil Nadu theatrical rights. It has raked in Rs 5 crore from Karnataka, Rs 4.5 crore from Kerala, Rs 4.5 crore from the Andhra and Telangana regions and about Rs 80 lakh from rest of India.
The rights of overseas rights have fetched Rs 18 crore for Sathyajyothi Films, which has earned Rs 85.5 crore from the worldwide theatrical rights alone.
The satellite right of Tamil and Telugu versions have been sold for Rs 23 core and the audio rights have been acquired by Sony Music for Rs 2.5 crore, adds Andhra Box Office.
The complete Hindi rights (audio, satellite, and theatrical rights) have earned Rs 8 crore for the producers.
The website claims that Ajith is now next only to Rajinikanth and Shankar's films in raking the moolah before release. The movie, which is billed to be made with highest-ever budget in Ajith's career, will have to gross over Rs 150 to be considered as a hit at the box office.
Below, find the break-up of business:
Area
Price
Chennai
Rs 5.1 crore
Chengalpet
Rs 11.1 crore
North and Arcot
Rs 5.9 crore
Coimbatore
Rs 9.6 crore
Madurai
Rs 6.9 crore
Trichy-Thanjavur
Rs 6.1 crore
Salem
Rs 5 crore
Tirunelveli-Kanyakumari
Rs 3 crore
Tamil Nadu Total
Rs 52.7 crore
Karnataka
Rs 5 crore
Kerala
Rs 4.5 crore
AP/Nizam
Rs 4.5 crore
Rest of India
Rs 80 lakh
Overseas
Rs 18 crore
Worldwide Theatrical Rights
Rs 85.5 crore
Satellite Rights
Rs 23 crore
Hindi
Rs 8 crore
Music
Rs 2.5 crore
Worldwide Total Pre-Release Business
Rs 119 crore
Note: These are the numbers published on Andhra Box Office website