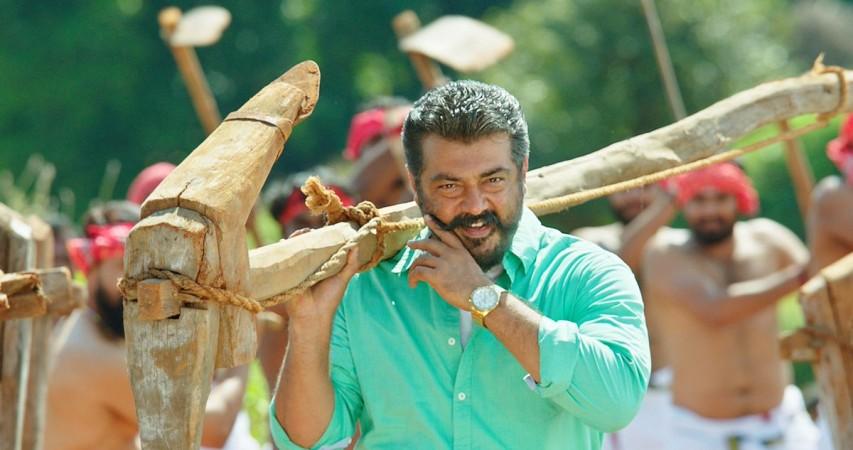 Kollywood audience and celebrities are in awe of the trailer of Ajith Kumar's upcoming movie Viswasam. In a surprising development, the video, which was supposed to be out on Monday, 31 December, was advanced by one day after it was allegedly leaked online.
It is a power-packed trailer full of action and mass moments. Although it looks like a routine commercial entertainer, the fans and celebrities are not complaining about it and had good words about Ajith's presence and punch dialogues.
Indeed, the trailer release became a trending topic of discussion on social media sites and celebrities comments further doubled the celebration of hardcore fans.
Many leading names from Kollywood have hailed the Viswasam trailer. Here, we bring you a few comments:
J Anbazhagan: Complete domination of Thala Ajith in #ViswasamTrailer with power packed visuals. All the very best to Viswasam & team.
Trailer is Ultimate & Astonishing.
Shanthnu Buddy: #Thala looks stunning in this getup #VisawasamTrailer looks promising , fun filled and action packed with perfect #ThalaCounters theriuchufying for the mass ! Looks like We are in for a perfect Pongal Pakka mass entertainer
PREMGI: THALAAAAAAA https://youtu.be/TiDyv53adt0
Actress Harathi: Long Live
Happy Life
2019
Ennaaaa pangaaligalah
Adchithookalaamah
Raghava Lawrence: I just watched #viswasam trailer.. just one word, for Ajith sir's good heart only good will happen. My wishes to the whole team.. I pray Raghvendra Swami for the success of the film. http://youtu.be/TiDyv53adt0
Sathish: Semmmma masssss Trailer @directorsiva sir
Best wishes to #ThalaAjith sir @immancomposer annan @AntonyLRuben and
#Viswasam team.
Tony- Kabir Duhan Singh: Frames ❤️ #thala #Viswasam
krishna: #VisawasamTrailer THALA THERIKA VITUDICHI festival mode has begun can't wait to see this movie with thala fans. THALA POLA VARUMA
Enjoy the trailer makkale
Sivakarthikeyan: Idhu dhan #Thala masssssss#Veeram is my most fav Ajith sir film..After Tis Pongal it's going to be #Viswasam ... @directorsiva sir @immancomposer anna @AntonyLRuben bro @vetrivisuals sir thank u for Tis
Rahul Dev Official: Thala fare for all his fans!
Get ready for Pongal guys
The #ViswasamTrailer
http://youtu.be/TiDyv53adt0
Adhik Ravichandran: What more do a Thala veriyan like me want?Happy tears,Goosebumps,no words.Thala Ajith sirs whata energy?guess I'll be near the screen throughout the film throwing papers,whistling,dancing like I did since dheena times #ViswasamThiruvizha என் கதையில நா வில்லன் டாThala daa
Dhananjayan BOFTA: #ViswasamTrailer is impressive like #Veeram with excellent dialogues & powerful performance from #ThalaAjith
Pongal treat of a total family Entertainer on the way looks like. Best wishes @SathyaJyothi_ @directorsiva
& team
Tony- Kabir Duhan Singh: More Tony- Kabir Duhan Singh Retweeted Zafir Ahamed
Super #Viswasam