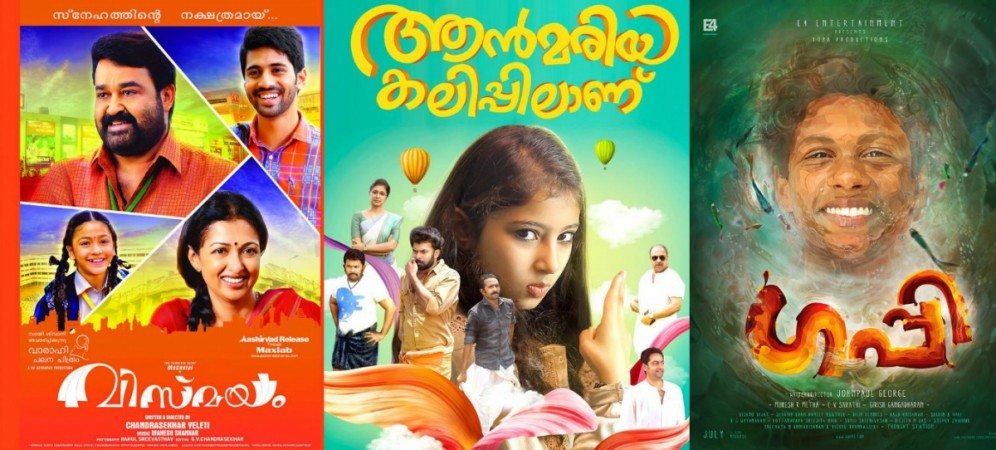 August 5 is a special day for Mollywood audience with three films hitting the screens on Friday. The movies include superstar Mohanlal's "Vismayam", Tovino Thomas, Chethan Jayalal's "Guppy," and Baby Sarah, Sunny Wayn's "Ann Maria Kalippilaanu."
"Vismayam" / "Manamantha"
Chandra Shekhar Yeleti's Telugu family entertainer, "Manamantha" ("Vismayam" in Malayalam and "Namadhu" in Tamil), is set to become the first release of superstar Mohanlal in 2016. The three versions of the movie, which narrates the story of four different people has been scheduled to hit the screens worldwide on Friday.
The highlight of the film is none other Mohanlal, who makes his acting debut in Tollywood with the family entertainer. The versatile actor plays the manager of a super market in the Yeleti-directed film. The multi-lingual film also stars Gauthami, Viswant, Raina Rao, Anisha Ambrose, Urvashi, Nassar, Vennela Kishore, Dhanraj, Parachuri Venkateswara Rao, Gollapudi Maruthi Rao, Praveen, Naveen Neni, Ayyapa, Harshavardhan and P Sharma in significant roles.
"Guppy"
Master Chethan Jayalal and Tovino Thomas' "Guppy," helmed by Johnpaul George, has impressed the audience upon its trailer release. The small budget entertainer also stars Rohini, Sreenivasan, Dileesh Pothan, Alancier Ley and Noby in key roles, and has been garnering tremendous support from various celebrities, who released the posters of each characters of the film.
Ann Maria Kalippilaanu
After "Aadu Oru Bheekarajeeviyanu," Midhun Manuel Thomas's second directorial venture "Ann Maria Kalippilaanu" will be released on Friday competing against "Vismayam" and "Guppy" at the Kerala box office. The family entertainer stars "Deiva Thirumagal"-fame child artiste, Sarah Arjun in the title role, along with Sunny Wayn. The movie also stars Aju Varghese, Dharmajan Bolgatty, Shine Tom Chacko, Siddique, Saiju Kurup and Leona Lishoy in key roles.
Advance booking
The advance ticket booking for all the three movies has been opened on Book My Show (few theatres) in Kerala. Like any superstar movies, the tickets for the first day first show of the Mohanlal-starrer have been sold out in Oberon Mall and PVR Lulu Mall in Kochi. It may continue to get similar houseful status for the other shows. This depends on the response it garners from the audience.