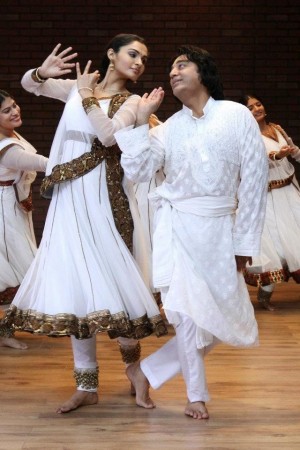 Kamal Haasan's much-awaited spy thriller "Vishwaroopam" is finally released in the Hindi version amid much controversy. The film also casts Rahul Bose, Pooja Kumar, Upendra, Andrea Jeremiah, Jaideep Ahlawat and Shekhar Kapur.
"Vishwaroopam" hit the screens in Mumbai on Friday, and contrary to expectations has received mixed reviews from critics.
Here is what critics have to say about the film:
Mohar Basu of Koimoi.com said: "The plot opens in suburban New York with a regular next door wife discussing her mundane marriage and rocky extra marital affair to her psychologist. Nirupama's husband Weez, a Kathak Dancer has no visible flaws and was hence a natural choice of convenience for Nirupama. But her impending affair with her boss forces her to ponder about walking out of her loveless, morose marriage. In order to satiate her guilt, Nirupama hires a private detective to bring on surface any hidden in the closet affairs of her husband.
"The movie is strongly rooted in history and a clear understanding of social sciences. However, the plot fantastically maintains its rhythm without getting preachy or turning into a history lesson. The flow of the film is lucid and it never goes the over the top to deliver a point, or a perspective.
"The film is a delicious watch for its dramatic action, brilliant stunts and mostly for the characters that Rahul Bose and Kamal Haasan so flawlessly deliver to us!"
Subhash k Jha of IANS said: "First things first. Kamal Haasan's enormously controversial film doesn't hurt Muslim sentiments. In fact, it doesn't hurt the sentiments of any section of the people except those party-poopers who think having a ball at the movies went out of style with Sholay and Chachi 420.
"Leave aside its sobering take on global warfare, Vishwaroop, the Hindi version of the Tamil, Telugu Vishwaroopam, is one helluva entertainer. If you've forgotten what edge-of-the-seat entertainment meant, then it is time to rediscover that pleasure. Stylish and substantial, the narrative weaves and winds its way into coherent and compulsive threads that bring together the theme of international espionage with the more sensitive issue of the Islamic and the personal identity of a man, whose heroic stature grows out of a sense of commitment to the country and to world peace.
"Insult to any community? Hah! It would be an insult to the filmmaking community to miss Vishwaroop. Miss this big screen adventure at your own risk."
G Pramod Kumar of Firstpost said: "The result is a pulsating thriller, which doesn't have the usual filmy twists, a demanding script or punch-lines, but is packed with high powered live action, convincing combat sequences, original military hardware, impressive technical prowess and the star himself in at least three different get-ups. It also has drama in good measure.
"Perhaps this is the first time that he looks justified in his life-long obsession with the technical flourish of Hollywood. The earlier attempt, Dasavathaaram in which he donned ten roles, was a prosthetic mishap.
Since he hasn't invented the look, feel and behaviour of the Al-Qaeda radicals, the blame against him and the film is misplaced. It's really surprising that a group of people have been able to stop the screening of the movie in Tamil Nadu on such flimsy grounds. Where does it "target Muslims and their beliefs"? I couldn't tell."
Taran Adarsh of Bollywood Hungama said: "Terrorism is no longer confined to a particular province, district or state. It's a worldwide concern, affecting every nation in some way or the other. Kamal Haasan's VISHWAROOP, therefore, is pertinent. This time around, the legendary actor helms a genre that's very Hollywoodish and -- here's good news -- he pulls it off quite well.
"Attempting a nail-biting thriller can be tough. Scores of films have traversed the path in the past. However, Kamal Haasan shuns the tried and tested, humdrum stuff and comes up with a fare that prides itself of mesmerizing action, stunts and combat scenes and marries form [technique] and content [drama] to the delight of the spectators. The film is not without its share of hiccups -- it's way too lengthy and the second half is sketchy -- but the effort is laudable, nonetheless.
"On the whole, VISHWAROOP is a Kamal Haasan show all the way. It has an interesting premise, superb combat scenes and Kamal Haasan's bravura act as its three aces. But a stretched second hour and far from dramatic finale dilute the impact. Yet, all said and done, those with an appetite for well-made thrillers might relish this effort!"