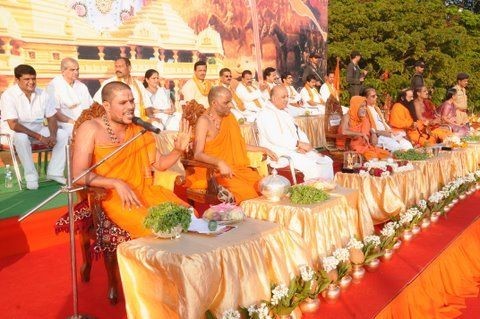 Vishwa Hindu Parishad (VHP) activists are set to launch the controversial 'Panch Kosi Parikrama Yatra' on Sunday in the Faizabad distrcit of Uttar Pradesh on Sunday, despite prohibitory orders from the district administration.
Last week, VHP general secretary (international) Champat Rai had announced that seers would undertake the 20-day-long religious procession on 22 September around Ayodhya.
In the wake of the Muzaffarnagar riots that lead to 47 deaths in the district, Faizabad authorities imposed restrictions on Saturday after receiving inputs from intelligence agencies that the proposed yatra might disrupt communal harmony and instigate tensions.
However, the restrictions will not stop devotees who come to perform daily rituals, District Magistrate Vipin Kumar Dwivedi told PTI. He assured that the restrictions do not apply to 'traditional and non-political Parikrama'.
"The dispute of Babri Masjid-Ram Janam Bhoomi is pending before the Supreme Court and VHP's motto behind this yatra is communal polarisation which may result in communal clash," the district administration stated in the order.
The administration has deployed paramilitary forces on the route through which devotees will commence the proposed yatra. Security forces have been deployed in adjoining areas of mixed and minority dominated pockets as well, said Dwivedi.
The VHP had launched its 84-kosi-parikrama from 25 August to 13 September, to garner support for the construction of a Ram Temple at the disputed Ramjanmbhumi site in Ayodhya. Consequently, the UP government banned the yatra and arrested many VHP supporters to stop them from launching the Parikrama.
The saffron outfit said the 5-kosi yatra will continue its campaign of constructing a Ram temple in Ayodhya. Authorities are expected to arrest large number of devotees and VHP supporters on Sunday.