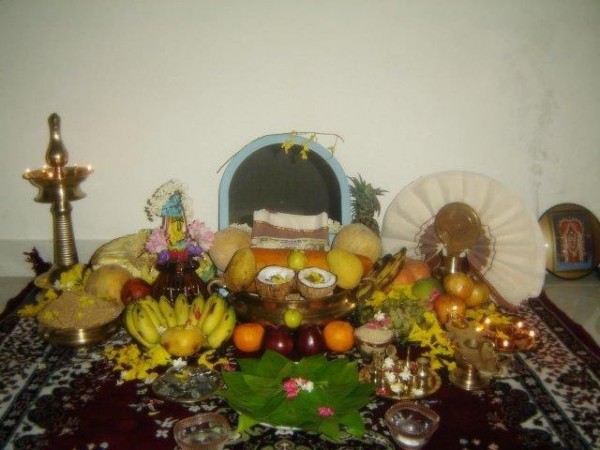 Vishu, the New Year of Malayalees, is observed on the first day of the Malayalam month Medam. The New Year usually falls in the month of April (as per the Roman calendar), and this year it will be observed on 15 April. [Also Read: Celebrities Greet Fans on Vishu Day]
Vishu (meaning "equal" in Sanskrit) is one of the major Hindu festivals of Malayalees. The festival signifies the transition of Sun from Meena Rasi to Meda Rasi. This falls on the day of vernal (spring) equinox, when the daytime and night have equal duration as the Sun crosses the equator.
The auspicious day is considered as a symbol of hope, luck and prosperity. Vishu is celebrated with colourful rituals and fanfare, including fireworks. People celebrate the day by wearing new clothes and make special dishes like payasam (keer).
The major highlights of the festival are Vishu Kani and Vishu Kaineetam. The Vishu Kani consists of rice, golden cucumber, vegetables, fruits, Konna flowers (Cassia fistula) that usually bloom during the period, coconut, gold, coins, holy books and a mirror (ideally the Aranmula mirror). These items are placed in the puja room. The traditional lamp is also placed alongside the Vishu Kani. All these are arranged the night prior to Vishu.
On the auspicious day, the eldest member of the family wakes up in the early hours of the morning and lights the traditional lamp. Then the senior-most member wakes others in the family and takes them to the puja room with their eyes closed, according to The Hindu. They open their eyes and see the Vishu Kani as their first sight of the new season. Looking at the Vishnu Kani in the early morning of Vishu is expected to bring luck and prosperity for the entire year.
The elders also give the youngsters money, a tradition which is called as Vishu Kaineetam.
Another major part of the celebration is the delicacies prepared on the special day. People prepare a feast called Sadhya, which includes special dishes like rice, sambar, rasam, sour mango soup, several side dishes and some sweets. Three important delicacies prepared on the day are Vishu Kanji (rice, coconut milk and spices), Thoran and Vishu Katta (rice powder, coconut milk, salt and jaggery).
Photo credit: Wikimedia Commons/Sureshcnair (Ed: VP)