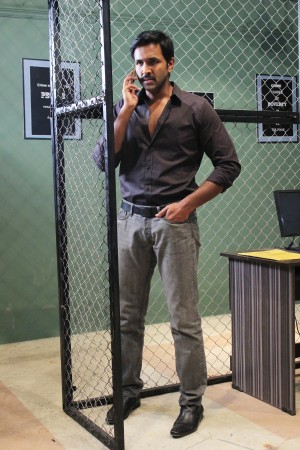 The upcoming Telugu thriller "Anukshanam" by Ram Gopal Varma is all set to hit the theatres worldwide on 12 September. The movie, starring Vishnu Manchu, revolves around the life of a pscho serial sex killer and a sharp police officer.
While the much-awaited film "Anukshanam" has completed its censor formalities, it has also received 'A' certification from the censor board.
Manchu, who is known for his roles in "Dhee", "Rowdy", "Doosukeltha" and "Denikaina Ready", has undergone a massive makeover for his upcoming movie. In fact, his looks are one of the most talked about elements in the film.
"I had to look older like a police officer in his late 30s. So I cut my hair short, grew a moustache and lost my beard, which I've never done for any of my films. I also had to wear shirts that made me look older," says the 32 year old actor.
In an attempt to look as realistic as possible, Manchu even roped in celebrated Hollywood hairstylist Sally Hershberger, who gave Meg Ryan her signature haircut. Manchu, with the help of Hershberger, came up with the current look of the character- a serious, intelligent, yet stylish cop.
Talking about his character in "Anukshanam", Manchu said that it was one of the toughest roles he got to portray.
"There are no breaks when you're working with RGV, and it's because he wants you to be in the character at all times. It left me mentally exhausted," Manchu told Times of India.
Manchu also said that he is lucky to have worked with incredibly gifted directors such as RGV who really care about the actors and push them to continously raise the bar and achieve acting excellence.
Manchu was convinced as soon as Ram narrated the script to him. "When I heard the story, I was totally zapped. This is the kind of script one needs guts to do," he said.
However, many fans were not impressed with his role in the initial days. "I've been successful with action-comedies and bigger commercial films. All of a sudden when I announced I'm doing a film with no songs and playing a character people are not used to see me in, everybody around me asked me not to do it," Manchu added.
The movie's phenomenal casting, which also includes veteran actress Revathi and Ram's distinctive direction, is guaranteed to tingle your thrill buds this September.
Meanwhile, Manchu broke the conventional distribution method and auctioned his film "Anukshanam". The bidding started online on 2 August and has been a huge success.
"The response has been phenomenal and I'm sure that I'll be making table profits even before the release of the film," said the actor.
Watch the theatrical trailer of "Anukshanam" here: