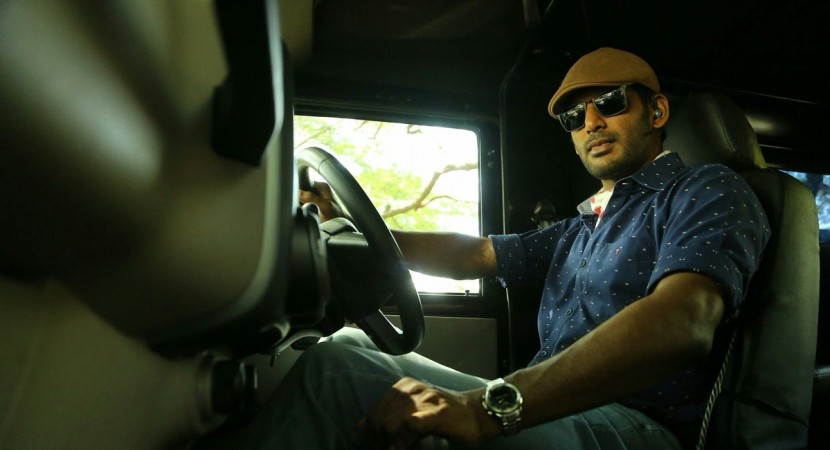 Exactly a year after J Jayalalithaa passed away, Tamil Nadu politics witnessed high drama on Tuesday, December 6. The nomination paper filed by actor Vishal, who is also the Secretary of the Nadigar Sangam and President of Tamil Nadu Producers' Council, for the RK Nagar by-poll were rejected on the grounds of producing fake signs of two of his proposers.
Vishal memes go viral in Social Media
The controversy broke out after two of the 10 proposers of Vishal's candidature accused him of forging their signs. Based on their complaint, Returning Officer K Velusamy rejected the actor's application for the by-poll, leading the Nadigar Sangam Secretary to hold a dharna in front of the officer's office.
Vishal stated that the two proposers were threatened to make the allegations against him and he submitted an audio clip, which is a purported telephonic conversation between him and a man related to Sumathy, to the Returning Officer to prove his innocence.
In the clip, it is reportedly heard that some supporters of AIADMK candidate E Madhusudanan had threatened their family members to file a complaint stating that their signatures were forged. His application was apparently accepted after submitting the clip and he even thanked the officer for standing by the truth.
"After much struggle, my nomination for the RK Nagar election is finally accepted.... Truth Always Triumphs !!" he also tweeted.
Unfortunately, Vishal's happiness was short-lived as his application was rejected once again stating that the conversation in the clip was not clear. Hence, Vishal's application has been rejected.
"Democracy at its lowest low !! Disheartening to hear that the nomination made by me was initially accepted & later when I left, has been announced as invalid," Vishal tweeted after getting a rude shock.
He added, "5th Dec 2016, #Amma died, 5th Dec, 2017, #Democracy died.... #SadReality #RIPDemocracy."
Every independent nominee who aspires to contest an election should have 10 proposers from the constituency where he files the nomination paper, according to the provisions of the Representation of People Act.
The last available option for Vishal to contest the election is by filing an election petition in the Madras High Court, challenging the Returning Officer's decision, reports The Hindu.