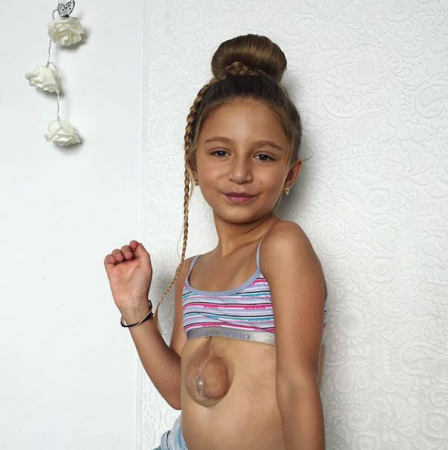 A disturbing video of an eight-year-old girl, Virsaviya Borun, was recently posted on YouTube titled 'VirsaviyaWarrior'. It features the young girl with her heart beating rapidly outside her body.
According to Daily Mail, the youngster's heart pushes further out of her chest when she giggles. Only a thin layer of skin is keeping it in. In the video, a woman is seen prodding her heart and the girl is seen smiling while relaxing on her bed.
The girl who was originally thought to be from Russia is currently living in Florida. She is suffering from a rare congenital condition, Pentalogy of Cantrell or thoraco-abdominal syndrome. It is such a rare condition that it affects just five in a million people.
The 43-second video posted on YouTube doesn't have any information, but the rare condition of Virsaviya reportedly came into the limelight in 2015, when her story went viral.
The young girl told BBC: "This is my heart. I'm the only one that has this. When I'm getting dressed, I put soft clothes on to not hurt my heart. And I just walk around, I jump, I fly, I run. Well, I am not supposed to run but I love running."
Her mother Dari Borun was warned by doctors that Virsaviya would die but her Instagram shows that she is a lively little girl who loves playing like any other kid of her age. Dari moved her family to the US hoping that Virsaviya could have surgery.
Virsaviya told Daily Mail: "I know why I have a heart outside. Because Jesus wants [sic] to show he can make special things like me."
While talking about the rare condition of Virsaviya, Dari told BBC: "Doctors told me Virsaviya had a really rare condition. But they said she won't survive. When I saw the first time how her heart was beating, of course to me it was something special. Virsaviya is alive and she can breathe and she can live."
You can watch the video here: [WARNING: The content may be upsetting to some people]