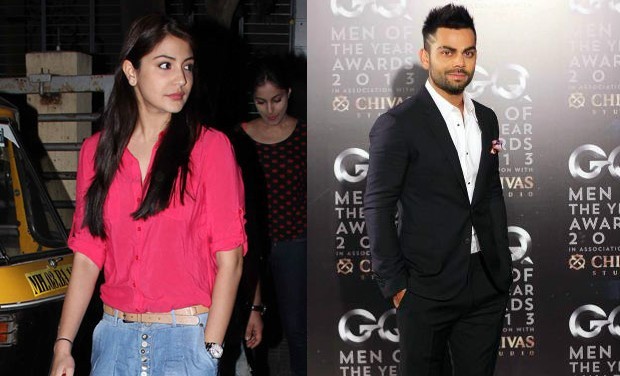 Superstar Shah Rukh Khan has made cricketer Virat Kohli acknowledge his relationship with actress Anushka Sharma.
SRK managed a feat of sorts as he made Kohli come on stage and, in a way, declare his love for the "Bombay Velvet" actress.
In the recently held Indian Premiere League (IPL) 7 opening party in Dubai, Khan once again became the witty host as he called on star cricketers like Mahendra Singh Dhoni, Shane Watson and others onstage to share some laughs.
And when it was Kohli's turn, Khan targeted the cricketer's romantic link-up with Sharma. He created a 'swayamvar' of sorts for Kohli and had posters of several leading Bollywood ladies brought up on stage. Kohli was made to choose among the posters, and quite evidently he went on to pick Sharma as his perfect bride. The actor went further and made Kohli wear the actress' poster on his neck.
Kohli choosing Sharma uninhibitedly in public is a clear indication that the cricketer is ready to declare his relationship with the actress to the media.
However, it remains to be seen whether Sharma would agree to Kohli's idea of going public, especially since she had refused to address the link-up with the cricketer during her appearance on "Koffee with Karan" this season.
Confirmed or not, the Sharma-Kolhi romance has been all over the news as the duo was spotted together in several locations in recent times.
The couple, who had celebrated the New Year together at Sharma's residence in Mumbai, was seen strolling on the streets of Auckland, earlier this year, when the cricketer was there during India's tour of New Zealand. Later, Kohli had followed Sharma to Sri Lanka during the shoot of "Bombay Velvet ", and recently to Jodhpur, where his lady love is shooting for "NH 10".
(Ed: VP)