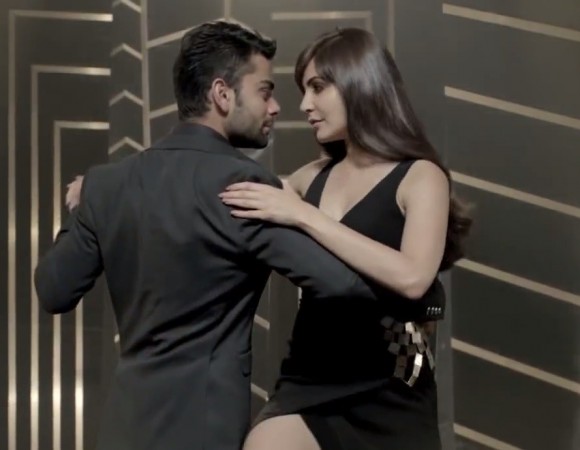 Virat Kohli has a career waiting at Bollywood, if his cricketing career, god forbid, ever takes a nose dive in coming years. He's smart, stylish and oh-so-charming – a perfect recipe for a movie star.
And like many others, filmmaker-producer-actor Arbaaz Khan feels Virat has a huge female fan-following, adding that he has presented himself really well.
"Virat has presented himself very well, he is good looking. He may not be the conventional hero material but he has a huge female fan following," Bollywood Life quoted him as saying. He was also quick to add that girlfriend Anushka Sharma and Virat would make for an adorable onscreen pair.
So, does this mean that Arbaaz is keen on launching Virat opposite Anushka? Only time will tell.
Now, the pair is turning out to be so hot for the market that a few months ago their infectious off-screen chemistry sparked off rumours of them doing Aditya Chopra's film. While it was widely reported that Virat had asked time until April 2015 so he could give the offer a good thought, it turned out to be just another speculation.
Yash Raj Films' official Twitter handle posted details on Aditya's next venture rubbishing rumours of Anushka-Virat being roped in for the same.
"To avoid confusion, we would like to categorically state that there is no plan to launch Virat Kohli in YRF's next alongside Anushka Sharma," and added, "In an effort to clear a related miscommunication, Aditya Chopra is still working on his next script & the cast has still not been considered."
The lovebirds, who recently admitted to being in a relationship, don't believe in talking too much about the equation they share. While the "NH10" actress believes it takes away focus from work, Virat opines that personal spaces shouldn't be invaded.
"We will not personally like to speak about it because it is something very personal for us and that should be respected by the media and everyone else as well," PTI quoted the sports star as saying.
#YRFNews Virat Kohli will not star opposite Anushka Sharma in YRF's next. (1/2)

— Yash Raj Films (@yrf) November 25, 2014
To avoid confusion, we would like to categorically state that there is no plan to launch Virat Kohli in YRF's next alongside Anushka Sharma. — Yash Raj Films (@yrf) November 25, 2014