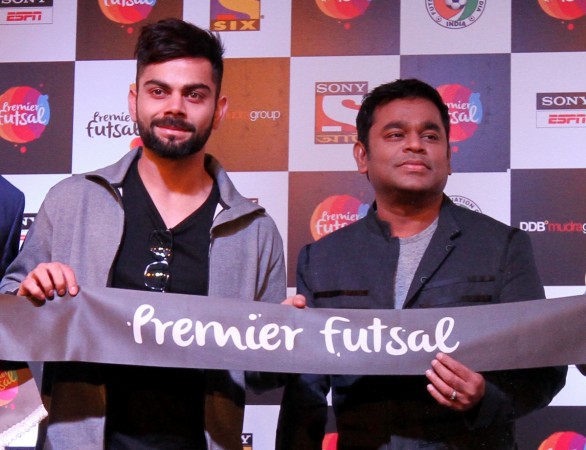 India cricket sensation Virat Kohli will be lending his voice for the theme song of the first-of-its-kind Premier Futsal league in India, scheduled for a July 15 start this year. The song will be composed by the 'Mozart of Madras' AR Rahman.
Kohli was announced as the brand ambassador of the league earlier this year.
"I'm under more pressure than on the field as I'm sitting next to a person [Rahman] I hugely admire," Kohli was quoted as saying by the Hindu on Monday. "Many of my childhood memories have a connection to the tunes of this man. I know how to prepare for cricket, but I have no clue about a recording session."
The song is titled "Naam Hai Futsal" and Rahman has confirmed that Kohli would be performing a rap in the song. "We've been working on the song for a week. Virat's portion will be a rap. I will make it easier for him," quipped Rahman.
"I'm proud to associate with Premier Futsal for the league's official anthem," the veteran musician further said to Press Trust of India. "It makes me happy to see such young entrepreneurs being passionate about the sporting scenario of the country and I wish them all the success in this venture.
"I'm especially excited to work with Virat Kohli on this, let's hope he is as good with his melody as he is with his bat!"
Players from across 21 countries are slated to take part in the first-ever Premier Futsal league in India. There will be eight teams representing Delhi, Mumbai, Kolkata, Chennai, Bengaluru, Kochi, Hyderabad and Goa in the league. Three international players, one international marquee soccer player and one Indian player will comprise the five-member teams.
It was also confirmed last month that Falcao, referred to as the 'Pele of Futsal', would also be participating in the competition.
Futsal can be considered the football equivalent of cricket's Twenty20 format. There are two halves of 20 minutes each in the five-a-side format of the game. Meanwhile, the theme song of the tournament, performed by Rahman and Kohli, is expected to release with a video on June 20.