Virat Kohli and Anushka Sharma's wedding and the reception parties that followed have been making headlines all these days. While tons of congratulatory messages flooded the social media, Anushka's long sindoor at the Delhi reception did not go down well with some.
Anushka looked drop-dead gorgeous in the complete bridal avatar, draping a beautiful red saree, coupled with a heavy necklace. Apart from her attire, the long sindoor on the parting line of her hair grabbed attention too.
While most of the fans appreciated Anushka's look for the first wedding reception, there was a section of "feminists" who did not approve the actress' sindoor.
They took to social media, and criticised Anushka for wearing the long sindoor, which according to them is a symbol of patriarchy. Anushka had earlier made many statements suggesting her belief in equality, but this act of carrying sindoor was contrary to her earlier statements, they said.
They slammed the newlywed actress suggesting that Anushka's stand for equality is only for show, and in real life, she herself chose to follow the "patriarchal" customs.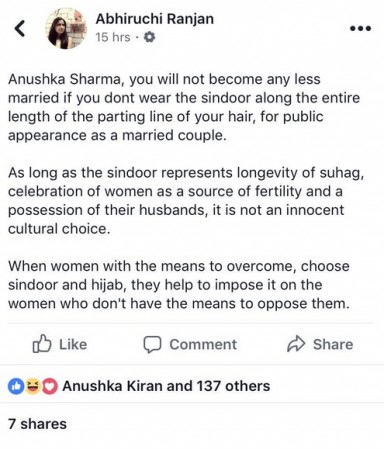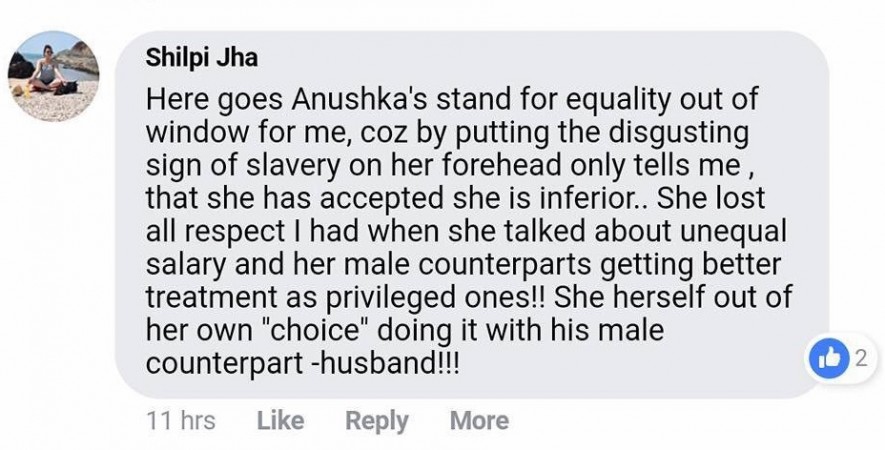 However, the "feminists" had to face a backlash from supporters of Anushka. Most people supported Virat's wife on this issue, saying that some people have the habit of creating a fuss out of everything.
Seriously Feminazi's need to back off, what is the issue wid Anushka wearing sindoor ? I mean y cant she wear it bcoz it looks pretty, treat it like any other makeup or accessory that we use, why do u have to question her and how the hell does this give rise to inequality ??? https://t.co/38tzEqz2el

— Mary Crasto (@marycrasto) December 26, 2017
Why can't people see that wearing sindoor is a matter of choice?!

— Anushka Jhota (@AJumbled) December 27, 2017
Why Ultra modern chicks finding Anushka's Sindoor so offensive!!

— dolli (@desh_bhkt) December 26, 2017
Anushka ke mathe par na bindiya thi na mang me sindoor, hum Pakistan par dosh laga rahe hain ki unhone Kulbhushan ki wife ki bindi utarwai. Hum hindu 4 akshar padh liye thode se popular ho gaye to hume apani sabhyata aur sanskriti se boo aane lagati hai.

— Atul Priti (@atul_priti) December 27, 2017
There are series of tweets where people slammed the critics and opined that it was Anushka's choice whether to wear sindoor or not and called these hate posts as a part of "feminazi".
Others said that applying sindoor is a part of Indian culture among Hindus, and it has nothing to do with equality among men and women. Nonetheless, it appeared that Anushka's "ek chutki" sindoor became a hot topic on social media with different people having a different say on it. Another interesting fact is there are some people on social media who criticised Anushka for not wearing sindoor at Mumbai reception. Well, being a celebrity is indeed a tough job.
Meanwhile, all the noise around Virushka's wedding has finally settled down now. After the hush-hush marriage ceremony in Italy, the star couple hosted a reception in Delhi, followed by a grand party in Mumbai for friends from the world of Bollywood and sports.