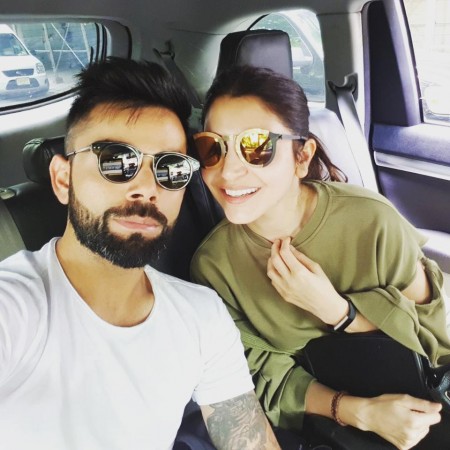 Bollywood actress Anushka Sharma and Indian cricketer Virat Kohli have made us more curious since the two left recently for Switzerland. The news of their marriage broke this week and it has surprised everyone.
The duo is said to have their wedding in Italy and close family members and friends will attend the ceremony.
The Virushka wedding rumours were first slammed by Anushka's spokesperson citing it to be false. But the recent pictures of the actress with her family at Mumbai airport raised eyebrows.
She was spotted late on Thursday at the airport leaving Mumbai with father Ajay Kumar, mother Ashima and elder brother Karnesh.
Also see: These photos prove why Virat Kohli and Anushka Sharma are a perfect couple
According to India Today, Anushka boarded her Swiss Airways flight in Mumbai, and Virat left from Delhi. The India captain reached Delhi airport at around 11.30 pm, and his flight took off at 2.45 am. The cricketer had grabbed attention when the news broke that Virat asked for a break from the December leg of the Sri Lanka tour (ODIs and T20).
Since then, their wedding rumours were doing the round. Speculations were rife that the duo's marriage will be held on December 12 in Milan.
Recently, sources told India Today that the duo will register their marriage at the Bandra family court on January 4. Anushka has apparently already picked up the registration forms for that date.
SpotboyE revealed a few details about the wedding. Take a look here:
"Sources tell us that they are planning to leave Mumbai for Italy, tonight. We are not sure about her parents' plans but we have heard that her brother is also booked on the same flight.
Sources further tell us that they will first land in Tuscany, and a few functions are also likely to be held in Milan. Tuscany and Milan- 155 miles away from each other- is just 38 minutes by air.
The news was limited in confirmation last evening and had no mention of Tuscany and the date when the celebrations will begin.
The buzz that there is likely to be a BIG Bollywood & Cricket party at J W Marriott (Juhu) on December 22 continues to grow by the minute. Our call to J W Marriott yielded the customary reply, 'We do not reveal any information. It's confidential'."