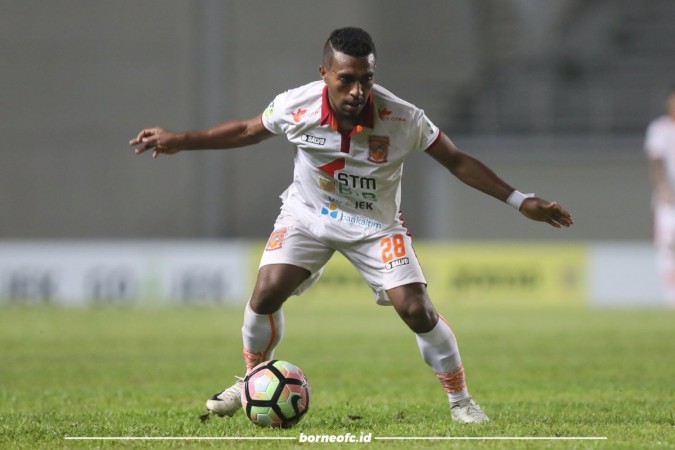 The football world is not facing any shortage of star players at the moment. Cristiano Ronaldo just won the BEST Fifa football award 2017, and England U-17 football team forward Rhian Brewster is turning attention, back in India.
In the middle of all, a certain Indonesian footballer Terens Puhiri has become internet's breakout superstar overnight after a video of his mind-boggling run during a league match, went viral. Before we say anything further, just watch this.
Comparisons with Usain Bolt -- the fastest man alive in the planet, and Flash of the Justice League, have been immediately drawn.
So what do we know so far about Terens Puhiri?
He is 21 years old and although his wikipedia page, for a while, showed him as a Barcelona 'B' player, truth is Puhiri plays as a winger for Indonesian Liga 1 side Borneo FC.
The Daily Mail claims that the internet sensation could be even faster than Manchester City midfielder Leroy Sane, who recently became the fastest player in the English Premier League by clocking a run speed of 35.48 km per hour.
Puhiri could even be faster than Borussia Dortmund forward Pierre Emerick Aubemeyang, who sprint is also highly revered.
Unfortunately, we don't have much equipped technology in the Indonesian football leagues to gauge the speed of players and other cutting-edge features. Nevertheless, football aficionados are working day and night to investigate Puhiri's unreal run....and also the commentator's mind-boggling "goal-goal-goal-goal" tongue-twisting commentary!
Digg.com, meanwhile, has come out with an interesting finding.
Assuming that the length of the football field is 110 metres, Puhiri's speed could be approx 30.58 km per hour. He covered about 32 metres distance during his run.
In the video, Puhiri runs about 30 yards within one second (note at 69:52). Hence, for the distance of 55 yards, he took approx six seconds.