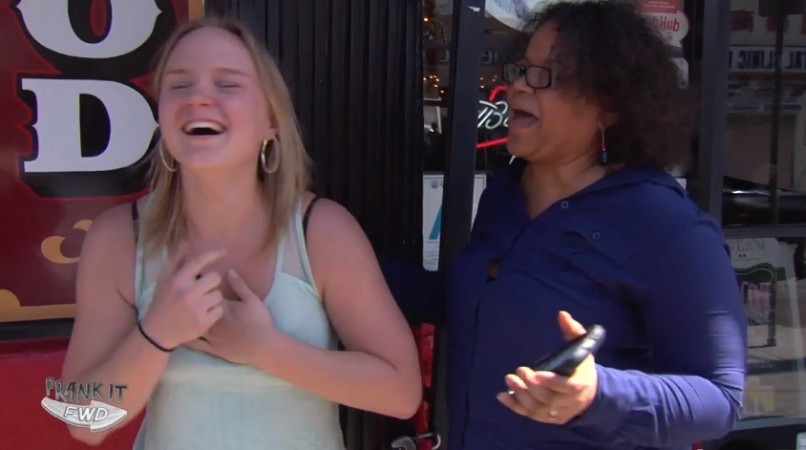 In what is being described as the "best shift ever", a young waitress from Southern California received five life-changing tips from people around her.
Break is known for playing pranks on people but this time, it decided to change waitress Chelsea Roff's life once and for all. The YouTube video, titled "Best Shift Ever - Waitress Receives Life-Changing Tip" was uploaded on 31 March, and has since gone viral, getting around 1.6 million hits at the time of filing this article.
"Chelsea is shattered financially. She had to raise her little sister from when she was just a girl, she overcame a severe eating disorder and her car is a piece of complete junk," said host Kevin Brueck. "The only free time she does have is running her own non-profit that helps people recover from eating disorders through yoga. If anybody could use a break, it's Chelsea," he added.
Here are the five surprise tips for Chelsea.
Tip 1: Chelsea gets $1,000 tips in cash from customers. The visibly surprised waitress took the amount but wanted to share it with her colleagues.
"Close the bill out, and stick the rest in your pocket," said her co-worker. "I can't stick the rest in my pocket," Chelsea replied. Chelsea's co-worker Audra Walker said that "It's in her nature to just split it up with everybody."
Tip 2: A couple, claiming to be from a travel agency, hands her vouchers - tickets to Hawaii for two - instead of money - claiming that they did not have cash to pay at that moment. The actual bill for the food was about $30 only.
Tip 3: Dr. Susan Krevoy, clinical psychologist, is seen reading a yoga book while Chelsea comes to attend to her. They get into conversation and the waitress shared how yoga changed her life. And to her surprise, the psychologist offered her a dream job.
Tip 4: A customer surprises her with a car. She took her outside the hotel and a new car arrives. She told her that it was a tip from her.
Tip 5: Guess who is inside the car? It's Chelsea's old friend Diana Roehlm, who happens to be her first yoga teacher. Chelsea jumps in excitement and hugs her friend, before falling on her knees with emotion.
VIDEO: Best Shift Ever - Waitress Receives Life-Changing Tip