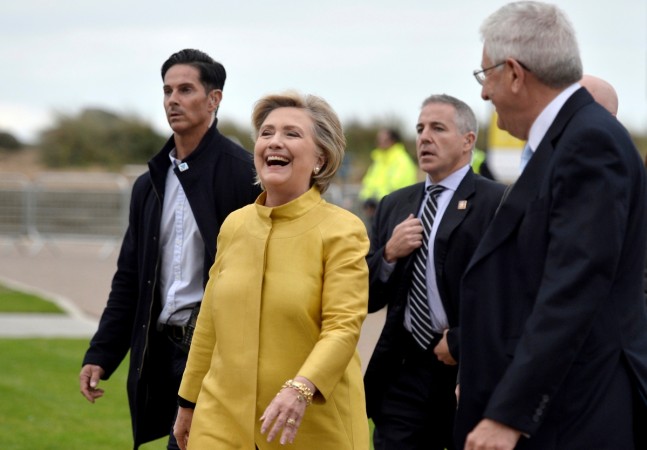 In a bizarre video, former US Secretary of State Hillary Clinton stunned Twitterati when she said the phrase 'activist b****s supporting b****es' on a video that surfaced on social media on Saturday. Hillary Clinton praised feminism in the same video that was shared on Twitter.
Hillary has always been an articulate and careful speaker in public, however, this time she did not hold herself back, and why should she? The reason for her saying that phrase on camera was due to an activist who named an organization after that and had asked the Former First Lady to say it during a lunch event in New York.
The video went viral when a Twitter user shared a 20-second snippet of Hillary praising feminism, activism and encouraging her supporters to keep doing the good work.
The location and the date of the short take were during a lunch event in New York but the video surfaced on social media, a day after the sexual harassment allegation within the staff of the Democratic politician's cabinet in 2008. Clinton was accused of keeping senior adviser Burns Strider on her campaign staff despite rumours that he had sexually harassed a female worker.
The video appears to be shot on a phone camera when Hillary says "Hey everyone, I just wanted to say thanks," whilst she is seated in a red banquette at a restaurant.
She further added, "Thanks for your feminism, for your activism, and all I can hope is you keep up the really important, good work".
However, as she was about to conclude the short video, a voice from behind urged Hillary to say the phrase, surprising quite a few viewers. She laughed as she said "And let me just say, this is directed at the activist b****es supporting b****es. So let's go."
This is not the first time that Hillary has had to encounter an awkward situation with a video. In the past, during the US Presidential elections, she was trolled for saying 'just chillin' in Cedar Rapids". Later, there was a shot of a drink holder which said: "More like Chillary Clinton, amirite?"