The Indian Super League (ISL) 2017-18 season initially started off by grabbing headlines for all the wrong reasons. Friendly banter during matches went a bit below the belt and nobody -- neither players nor fans -- like them.
In Chennai, a NorthEast United supporter was racially abused. Some drunk local guys taunted a North-East girl by performing a vulgar dance right in front of her face, in the stands. The incident was condemned for both the ISL teams and everyone -- from fans to team owners -- united to call a complete full stop to such acts.
BREAKING: Rene Meulensteen leaves Kerala Blasters ---> READ
Also, a Chennaiyin FC fan was lathicharged by a cop in Bengaluru for no reason. The away fan was neither trying to cause any harm nor shouting abuses to the home fans. Bengaluru FC, acting on the incident, released a statement that they would talk to the security team to make sure such untoward incidents are prevented.
Now, ahead of the start of the ISL season, a rivalry built up which was set to take the ISL season by storm. It all started in Bengaluru again. Kerala Blasters players Rino Anto and CK Vineeth, former players of BFC, were present at the famed West Block Stand of the Kanteerava Stadium, during a 2017 match.
The Mallu duo received quite a lot of banter and the enormous criticism even managed to leave Anto with an emotional outburst.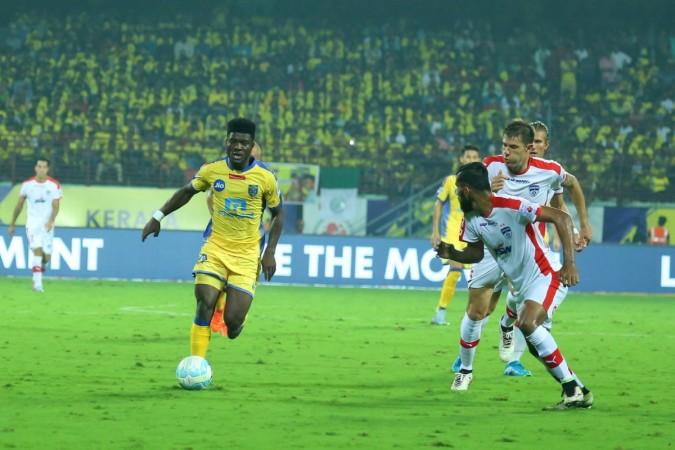 Ahead of the blockbuster December 31 match between Kerala Blasters and Bengaluru FC in Kochi, the rivalry, as was expected, reached zenith, with fans of both teams venting their creative best to trump the other.
The match turned out to be a dominant 3-1 win for BFC at the JLN Stadium Kochi.
Frustration, disappointment, anger would have been expected from the home fans for the travelling BFC fans who call themselves the 'West Block Blues'. Instead, at the end of the match, the KBFC fans, who call themselves 'Manjappada' gave an ovation to the BFC fans as they headed out of the stadium.
Talk of keeping the banter classy and to the point, BFC and KBFC fans deserve all the plaudits!