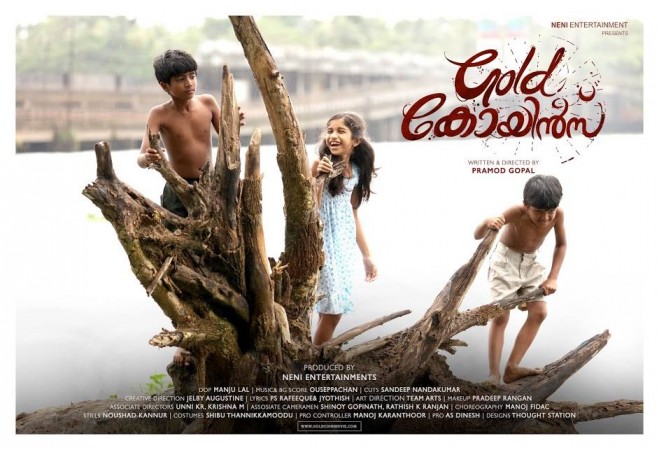 The melody that starts with the lines Illillam Pullile from the upcoming Malayalam movie Gold Coins has been released online. During the audio launch event that took place on December 11 in Kochi, music composer Ouseppachan revealed that the film has a total of nine songs.
Singer-director-actor Vineeth Sreenivasan, who attended the audio launch event, is all praise for the particular Illillam song. The all-rounder of Mollywood has shared the song video on his Facebook page requesting his followers to watch it. "A beautifully picturised song from Gold Coins.. Music by Ouseppachan sir.. all the best Pramod And Crew!! Pls watch this song everyone.. [sic]," Vineeth writes about the song.
The track has been rendered by KS Harishankar, Jeffry Biju, Jerald Biju, Albin Nelson, Sneha Johnson and Chris Rose, for which PS Rafeeque has penned the lyrics and music composition has been done by Ouseppachan. It features three kids as well as Pattalam-fame Tessa, who makes a comeback as the mother of two. Netizens have been lauding the team of Gold Coins for coming up with such a soulful song with beautiful picturisation.
Jason Rex
Ouseppachan comes up with such soulful numbers!!
nandhan
super song & nice visuals
Abhilash Gregory
Ouseppachan returns! ....
Harsha Shyam
great job!.... so proud of u Pramodgopal...
The upcoming children's movie also has Meera Nandan, in the role of a teacher named Smriti, and Sunny Wayn in important roles. The movie, which has kids in main roles, doesn't have any male protagonists but is said to be delivering a good message to adults. Though the makers haven't announced the release date of the movie, it is expected to get released in 2017.
Watch the song here:
Watch video of the audio launch event here:
-
-