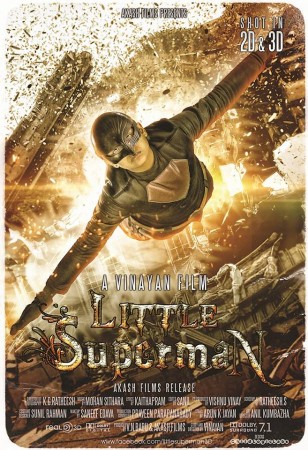 Director Vinayan had decided to withdraw his latest film, "Little Superman", from the theatres. The filmmaker had decided to re-release the movie for next vacation season with some considerable changes in the climax of the movie.
The reason for withdrawing the film from the theatres was based on remarks, which pointed out that the climax of the movie gives wrong message to children.
Vinayan took to Facebook to declare his decision of withdrawing the film. He said the CMI School, which has been a great support for the team of "Little Superman", has given a written note to him regarding the inappropriate climax.
In the letter, the school authorities mentioned that the climax scene where the 12-year-old boy is shooting his father's killers gives wrong notion to children and requested the director to make necessary changes.
"We will be reshooting the climax of 'Little Superman' with a different ending," said Vinayan. "It is not because of my social responsibility, but I don't want any child to have a wrong thought because of my movies."
"I am completely confident about the quality of my movie and that is why I have decided to go for a reshoot and to release the movie for next summer vacation. Since we have got permission from the Censor Board, the re-release of the movie isn't an issue," he added.
The director also reminded that the first Indian 3D film, "My Dear Kuttichathan", was also re-released in similar ways. He said the next release of "Little Superman" will have more assertion of graphics in the second half of the movie.
"Little Superman", which is a 3D movie, has opened in theatres with positive reviews and had garnered great reviews from both critics and viewers alike. The movie was appreciated for its graphics, which is said to be of international standards. The screenplay, direction, cinematography and other technical aspects of the film were reviewed as best, making the Vinayan movie a visual treat.