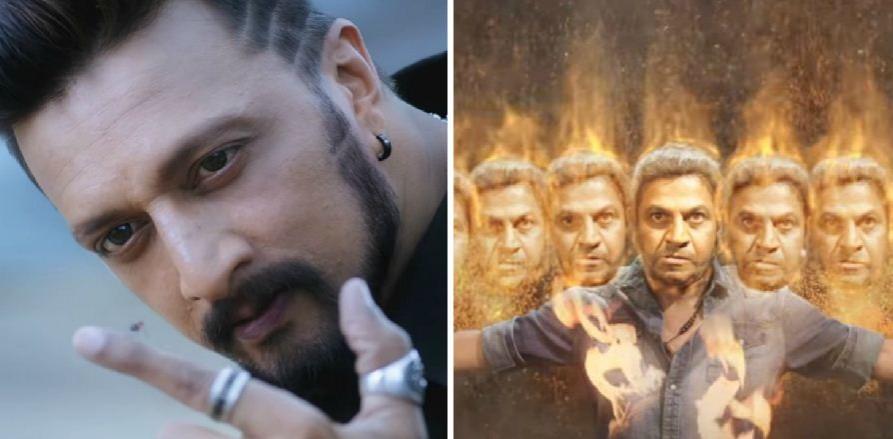 Two teasers from Prem's upcoming Kannada movie The Villain have hit the internet with a bang. In about 12 hours, the combined views of the two clips crossed 14 lakh, which is a huge number by any standards for a Kannada film.
Sudeep's teaser
Sudeep chases a red ant through his fingers and he blows it away once it comes on his hands. He does not mouth any dialogue, but mouths the rhymes, "Aane banthondu Aane, yaav oor aane, bijapuradaane" and towards the end he mentions about Ravana, the villain in the film.
Shivaraj Kumar's teaser
Prem has given a typical underworld intro for Shivaraj Kumar, who mouths, "Nanu silent agidre Rama, violent adre Ravana (I am Rama when I am silent and Ravana when I turn violent)."
Both the teasers are above 2 minute-long and create positive buzz without revealing anything about the storyline of the Kannada film. Indeed, the clips leave the fans wondering about who is the villain or Ravana in the film.
The clips have gone viral with lots of positive words coming its way. Many celebrities have lauded the teasers. Here, we bring you selected few comments posted by them on Twitter:
Priyamani Raj: Just saw the teaser of #TheVillain... loving the look and the new avatar@KicchaSudeep !! All the best
Danish Sait: The teaser of #TheVillain is incredible! @KicchaSudeep sir, you have to start an acting school, amazing how you imagine objects and perform with such ease! You make graphics look good Watch it now: https://youtu.be/mN4zA3KGFjo Also, producer sir looks better than the MGM Lion!
Pavan Wadeyar: Supper. Abhinaya chakravarti well deserved title to you @KicchaSudeep sir. You are toooo good sir.
Kabir Duhan Singh: Unbelievable fantastic @KicchaSudeep sir @DirectorPREM_R sir All the Best to the entire team ..
#TheVillain Abhinaya Chakravarthy Kichcha Sudeepa TEASER | Jogi Prem | A... https://youtu.be/mN4zA3KGFjo via @YouTube
Aftab Shivdasani: Brillianttt brother!! How cool is this looking?! #claptrap Now show us the film sooon! (With subtitles) best wishes to the team as well! #TheVillainTeaser
HariPrriya: Wow I mean WowwwwwwwwwNo words to describe your screen presence and your voice ❤️
Ravi Varma: Dashing #KichchaSudeep @directorprems #TheVillainTeaser https://www.youtube.com/watch?v=mN4zA3KGFjo ... @KicchaSudeep
Rishab Shetty: Here are the fabulous teasers of #TheVillain. It's celebration time for Shivanna and @KicchaSudeep Sir's fans. Best wishes to @directorprems
Tharun Sudhir: Now that's what we call Prem's style @DirectorPREM_R. #kickass teasers of #TheVillain .. Shivanna's energy is unmatchable & @KicchaSudeep sir voice gives goosebumps.. waiting to watch both #superstars in a single frame..@ArjunJanya2 at his best. @aanandaaudio good luck.