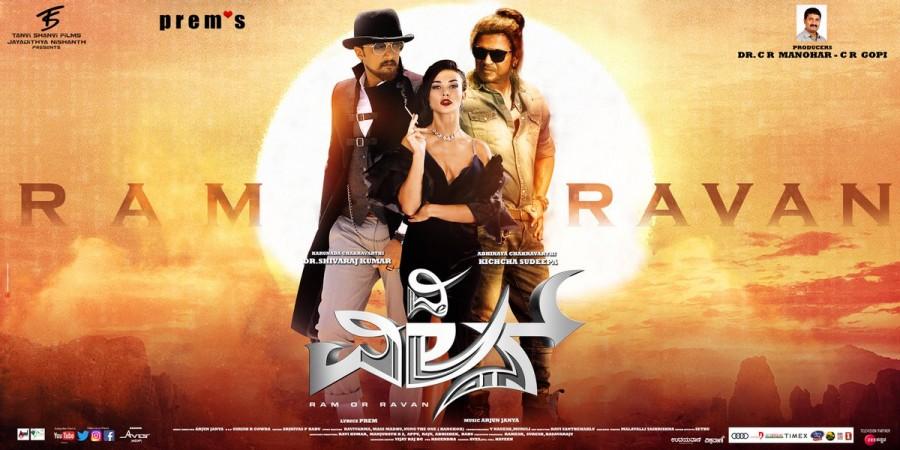 Kiccha Sudeep and Shivaraj Kumar's The Villain is an action-packed commercial entertainer, written and directed by Prem. Amy Jackson plays the female lead in the mega-budget project funded by CR Manohar.
For the first time in Sandalwood history, Sudeep and Shivaraj Kumar are sharing screen space in the lead roles (Shivanna was seen in a guest appearance in Kiccha's 2007 film Shanti Nivasa). Amy Jackson plays the female lead in the flick, which has Bollywood actor Mithun Chakraborty enacting an important role. Here is Our Official Review
Story:
The characters of The Villain are inspired from the Hindu mythology Ramayana. Kaisar Ram (Sudeep), a smuggler of weapons, wants to rule the underworld. A flashback reveals that he was in love with Janaki (Amy Jackson) On the other side, Ramappa (Shivaraj Kumar) is chasing Kaisar Ram. He has a job in hand and the reason why he creates hurdles for the gangster forms the crux of the story.
Reviews:
The movie has met with mixed reviews. Although content is good, viewers say that the execution part failed. Nonetheless, the film has impressed the hardcore fans of Shivanna and Sudeep. Checkout their views about the movie:
Harshavardhan R: One more to the list for Prem. Sorry to say the worst movies list, It was more like inducing several stories forcibly to make a single plot. Magic doesn't work everytime, well Prem has to come out of his regular pattern, like over hyping, getting other languages leads, crappy VFX, mother sentiment and wat not. Utter waste of time.
NAVEEN KUMAR B: Prem has surprised. Caught a 6AM show for Shivanna. Prem has stuck to his strengths.I was really surprised with plot. I thought I can predict, but I couldn't. Prem has surprised everyone and delivered one of the best movies this year. Watch out for a scene when Shivanna brings Saranya home. Excellent dialogues by Malavalli Saikrishna especially rural backdrop and mother sentiment. I have seen people bashing Prem - rightfully so for his last couple of movies. But go watch this movie you will be surprised. To cut it short I will put this in top 3 or 4 movies of Sandalwood this year..Tagaru, Ondalla Eradalla, The Villain. Go watch this.
Kiran Achar ⏺️: Movie #TheVillain is excellent drama epic acting by @KicchaSudeep intelligently managed both #Shivanna and sudeep sir by @directorprems don't know how movie passed everyone stickied to the seat climax fight is excellent chindi movie hats off to @KicchaSudeep sir mind blowing act
mahigaja83: Watching #TheVillain in Veerabadreshwara theater first half not Bad loved #Shivanna Entry scene & sudeep acting whole theater filled with #Rajfamily Fans euphoria was too good full whisles shivanna has very less space than sudeep in first half waiting 2nd haf
mvlp123: #TheVillain is Prem. Wasting the time of two big stars and their mass pull with a story like this?! @KicchaSudeep's top class performance and Shivanna's presence saved the film from a torture.Given this canvas and star cast,many young n aspiring directors can make a SUPERB film.
ವಿನು(Vinu): #TheVillain first half super... both have done ultimately prem best till date ... #Shivanna mind blowing @shivuaDDa @OnlyShivanna
Tejaswi_Kannada: The reason I hate #TheVillain is very simple. Jogi Prem. Full buildup, heavy dialogue and Pure Gimmick. As A Kannadiga i really dont wish bad. Prem shit has to end with this movie. You can check reviews. Its out now. Prem is villain for Shivanna n Sudeep fans.
Avinash Achar: Hoping this movie will entertain with multi star combination.By the teaser released it might be the jugal bandhi between two Stars.Expections are more due to the long gap of watching Kiccha sudeep on bigscreen & back to back two hits of Dr.Shivarajkumar.
Its known fact about "Showman" director Prem that his films lags with stories, and creates high range of expectation ... Hoping this time he will not disappoint..!
Srinivas Aprameya: Awesome movie , great acting from shivvana and deepana and songs are also super , first half is filled with twists second half is filled with jaw drooping senes ,u will surely enjoy Shivaana and sudeep chemistry ,and those who tell negative about film I think they don't know what is the meaning of film . rating 4/5 for villain , background bgm is awesome ,prem has proved he is one of the best director ,do watch in theaters and enjoy ❤️
Vinay Kumar: Expections are more due to the long gap of watching Kiccha Sudeep on bigscreen & back to back two hits of Dr.Shivarajkumar.First half is filled with twists and after a ultimate interval second half is filled with jaw drooping scenes and sensible climax.
Pros :Dr.Shivraj Kumar and sudeep acting is fabulous,interval is awsome,Rocking BGM,Blockbuster songs,heart touching wondefull climax.
Cons: Long and weak storyline,unnecessary song,CG is not worked well.
Finally Rating : 3/5.
Deepak R: Every time same sentiment,trick and theme does not work Prem. This is Shivanna and Sudeep's film. Both have given their best and made this a Actors film. Amy( heroin) is utter waste. Sorry Prem, try to come out of your tricks which will not work Everytime.Once again hatts of to Shivanna and Sudeep for their outstanding performance.....
Mallikarjun G: The Villain, Expected a lot from this movie but totally disappointed very boring movies poor direction but sudeep and shivanna did the best for their characters that to sudeep looks awesome,prem please stop direction as ur very good lyricist songs very good but movie is not even OK,