The countdown for the release of Vikram and Shankar's "I" has begun. The movie will hit the screens worldwide on 14 January. With just three days to go, the hype has reached sky high. So, we give you seven reasons why you should not miss the mega-budget movie.
A Shankar Movie
The first and foremost reason for people to watch "I" is that it's a Shankar's movie. The director's popularity has continued to increase with each of his movies and has become one of the top film-makers in India. His films are closely watched by all the industries in the country and language has never been a barrier to his films.
Vikram
Vikram takes a lot of effort to give cent percent to his characters. He gives his best in whatever he does and this is once again evident in "I". Chiyaan has already impressed the audience with the trailer and posters in which we could see the various avatars of him. His character of crippled man just takes the curiosity level of the cine-goers to the next level. Audience might go on to watch the movie even if the movie gets negative reviews just to salute this man's hard work.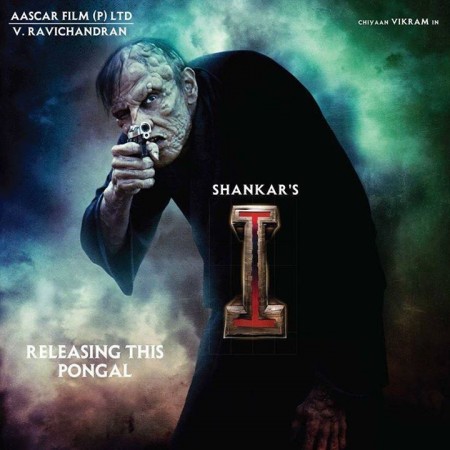 Vikram-Shankar
Vikram and Shankar had earlier teamed up for "Anniyan". The movie is considered as a milestone flick in their careers and this will be a strong reason for non-Tamilians, who are not aware of their other works but have seen "Anniyan", to watch "I".
Action
The trailer and teaser of "I" have promised high-octane action sequences for the audience that could be matched with Hollywood standards. The director has roped in some international personalities to choreograph the action scenes. One can expect some hair-raising sequences. Earlier works show that Shankar does not like usual action scenes and often comes up with different ideas.
Music/Visuals
While AR Rahman's music has already won the audience's heart, PC Sreeram's cinematography has clearly indicated that the film is going to be a visual treat. These will be two key factors that the audience always enjoy in Shankar's movies.
A Different Experience
The promotional materials of "I" have shown that the movie is all set to give audience a new experience. The concept and Vikram's multiple avatars with world-class technical elements are promising of giving a fresh experience and wholesome entertainment.
Amy Jackson
Amy Jackson may not have a challenging role but she definitely has a glamorous role. Shankar's movies often projected his female leads at their best in rich costumes. The director knows what the viewers want to see in his films and has possibly presented her as per their tastes.