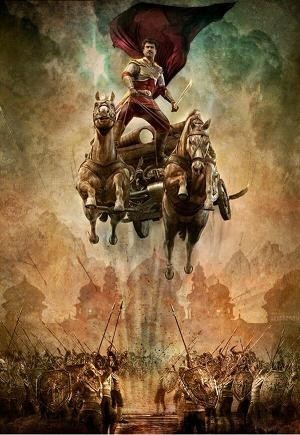 Rajinikanth's "Vikramasimha", the Telugu version of "Kochadaiiyaan", has received mixed reviews from critics.
"Vikramasimha", directed by Soundarya Rajini, is a 3D animation film that uses photorealistic motion capturing techniques. After several delays, the film hit the screens on Friday (23 May), amid huge expectations from fans.
Story: Rana (Rajanikanth) is the commander of Kalingapuram dynasty headed by Raja Mahendrudu (Jackie Shroff). Under his leadership, Rana's army wins battles against the other kingdoms successfully. Time comes when the Kalingapuram dynasty declares war against the kingdom of Kota Pattanam, ruled by Ugra Simha (Nasser). At the time of the war, Rana turns up against his own kingdom and joins hands with the Kota Pattanam dynasty. He also plans to kill the king of Kota Pattanam. Why did Rana switch sides? Why does he want to kill Ugra Simha? Who is Vikramasimha (Rajinikanth) and what happened to him? All these are answered as the film progresses towards the end.
Critics have appreciated Soundarya's efforts for introducing new technology to the Indian film industry. However, the film's story and screenplay written by KS Ravikumar are weak, they said.
"Soundarya was handicapped with a weak story and screenplay written by KS Ravi Kumar. Real Rajanikanth could have saved the day for a mediocre script like this. But an animated Rajanikanth is as handicapped as his daughter who messed it up in narration. She has probably put all her efforts on the animation part and ignored story which is vital for any film," said Gulte.
Some of the major plus points of the film are the film's introductory scenes, Rajinikanth's Shiva Thandavam sequence, superstar's dialogues in the pre-climax episodes, war scenes in the climax and AR Rahman's music.
There are also a few drawbacks in the film. According to critics, "Vikramasimha" lacks technical finesse. Although the film has rich production values, the motion capturing technology is not very impressive, they said.
"One can say that the motion capture technology has been like a curse for this film, even though it is is a new innovation in Indian films. Those who do not know about this technology are staying away from Vikrama Simha, thinking that it is an animation or cartoon film," according to 123telugu.
"Even though the technology captures the faces of the stars well, their emotions in major scenes lack depth and have not been executed properly," the website stated.
AP Today has appreciated Rajinikanth and his daughter for their initiative in making "Vikramasimha."
"Kudos to Rajinikanth and Soundarya for taking the initiative despite being aware of the huge budget, time constraint and high risk factor involved. Wish Indian Films would compete with Hollywood in terms of technology from now onwards!" the website stated.
Seshadri of desimartini said, "Vikramasimha may not qualify to be the ticket to exemplary technical grandeur in Indian cinema, but, as long as it lasts, it ensures an appeal."
Verdict: Brave Attempt by Soundarya, but the Rajinikanth starrer fails to roar.