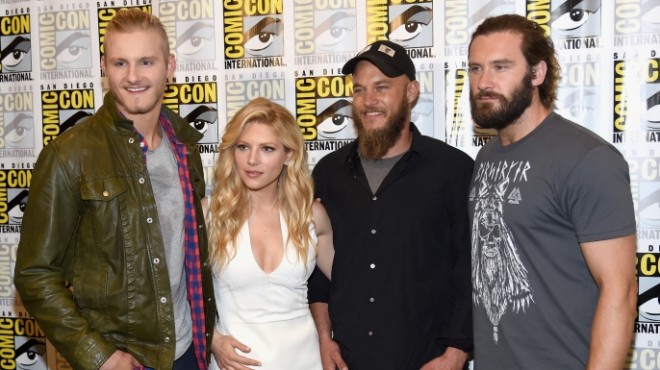 After a long wait for updates on "Vikings" season 4, fans will be getting a few details about the sequel during the San Diego Comic Con 2015. The panel will be held on Friday, 10 July, at Room 6A from 3:30pm-4:30pm.
The event will be attended by Travis Fimmel, Clive Standen, Katheryn Winnick and Alexander Ludwig along with creator Michael Hirst and Dirk Hoogstra, General Manager and Executive Vice-President of History Channel.
While followers of the drama series will be getting an exclusive sneak-peek of the fourth season, they may also get to know the release date of the sequel. Meanwhile, they will get a chance to interact with their favourite characters – Ragnar Lothbrok, Lagertha, Rollo and Bjorn Ironside – at the international convention.
So many of the speculations surrounding the popular history drama, including sibling fights between the King and his brother as well as the roles of Chinese traveller named Yidu (Dianne Doan), Halfdan the Black (Jasper Paakkonen) of Scandinavia and King Harald Finehair (Peter Franzen), could be clarified and fans may get a clear picture about the season.
Other attractions of the "Vikings" panel at San Diego Comic Con 2015 will be Bludgeon Booth Convention Center, wherein admirers get a chance to experience an integrated battle scene from the show, Vikings Horns Gaslamp District – an opportunity to drink beer in horn-shaped vessels -- and Vikings Longship Downtown / Gaslamp District.